Node «In the End Everything is a Gag» (2010)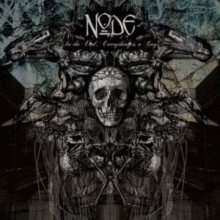 Autore:
Lord Lucyfer

»
Recensione Pubblicata il:
--
Visualizzazioni:
2594
Band:
Node




Titolo:
In the End Everything is a Gag
Nazione:
Italia
Formazione:
Rex – voce
Gary – chitarra
Attila – chitarra
Gabriele – basso
Marco – batteria
Genere:
Durata:
38' 57"
Formato:
CD
Data di Uscita:
2010
Etichetta:
Distribuzione:
---
Agenzia di Promozione:
---
Recensione
Quinto album in studio (a cui si aggiungono 2 EP, un Demo ed un DVD) per una delle bands più attive del panorama Metal tricolore: i milanesi Node, attivi ormai dal lontano 1994 ed arrivati al deal con la Scarlet Records, per la quale esce questo splendido "In the End Everything is a Gag". Il Thrash/Death tecnico del quintetto meneghino ha trovato, a mio modo di vedere, un nuovo picco grazie a questo lavoro, nel quale non c'è un solo difetto che sia uno!

In primis c'è da dire che il nuovo vocalist, Giuseppe "Rex" Caruso (già negli Ira) non fa per nulla rimpiangere lo storico vocalist Daniel Botti: un compito difficilissimo quello di Rex, che ha però adempiuto al suo dovere fornendo una prestazione (mi si passi il termine) coi controcazzi! Decisamente in forma è sembrato anche Gary, chitarrista e membro storico dei Node: il suo songwriting è ispiratissimo per tutta la durata del cd, e la prova alla sei corde (insieme ad Attila) è da doverosa menzione di merito.

Venendo al disco, come dicevo sopra "In the End Everything is a Gag" non ha nemmeno un difetto. Produzione massiccia e potente senza nemmeno una sbavatura, tanto per cominciare. Un sound che risulta essere oltremodo moderno, ma che di certo non farà storcere il naso ai più puristi. Basta anche solo l'attacco del cd con "100% Hate": niente intro, nessun suono che sale man mano. Niente. Un attacco diretto e potente, per uno dei pezzi più tirati che m'è capitato d'ascoltare in questi ultimi tempi (m'han ricordato un po' gli Swashbuckle, anche se per anzianità sarebbe giusto dire il contrario). "When I Believed in God", "This Ocean" ed "All My Faults" sono altre perle di rara bellezza, songs che vanno di diritto fra quelli che dovrebbero essere i cavalli di battaglia della band milanese. Ed in più alla fine, i Node ci sorprendono con una chicca: la cover di Billy Idol "Rebel Yell", rivisitata in chiave Node ma che, andando ben ad ascoltare, poco si discosta dall'originale.

I Pure Italian Motherfuckers sono in giro ormai da 16 anni, hanno un curriculum Live da fare invidia a molti e sono riusciti a migliorarsi ulteriormente con questa loro ultima fatica. Insomma, non c'è assolutamente da chiedere nulla più ad un disco che rasenta la perfezione. Diate fiato alle trombe, signori: i Node sono ancor più pronti, ormai, a dare uno scossone al mercato Metal europeo. E su questo, ci metto la mano sul fuoco.
Track by Track
100% Hate

90

The White is Burning

75

When I Believed in God

80

This Ocean

85

New Order

75

Mia Follow Me Down

70

All my Faults

80

The Masks of Life

70

Rebel Yell (Billy Idol cover)

70

In Death you Live

75
Giudizio Confezione
Qualità Audio:

90

Qualità Artwork:

80

Originalità:

80

Tecnica:

80
Recensione di
Lord Lucyfer

»
pubblicata il --. Articolo letto
2594
volte.
Articoli Correlati