In Aevum Agere «Labyrinth Of Emptiness» (2009)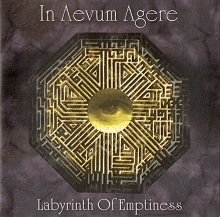 Autore:
carnival creation

»
Recensione Pubblicata il:
--
Visualizzazioni:
2050
Band:
In Aevum Agere




Titolo:
Labyrinth Of Emptiness
Nazione:
Italia
Formazione:
Bruno Masulli :: All Vocals + Narration + All Guitars
Luca Coppola :: Bass
Fabio Parisi :: Drums
Genere:
Durata:
16' 3"
Formato:
Promo CD
Data di Uscita:
2009
Etichetta:
Distribuzione:
---
Agenzia di Promozione:
---
Recensione
Seconda puntata per un'altra delle creature di Bruno Masulli. "Labirynth Of Emptiness" non è altro che un singolo estratto dal prossimo album che vedrà la luce non troppo lontano da adesso, un semplice e bel singolo però, fatto di tante piccole sfaccettature che lo rendono speciale.
La title-track, prima traccia, affonda le sue radici nel lato più oscuro del Power Metal, quel sentiero preso da pochi ma molto affascinante col suo incedere in pieno stile Doom.
Non lasciatevi ingannare dal sottogenere "lento e noioso" poiché il Doom rappresentato qui non rallenta la sua componente Power, anzi, la rende solo più buia e malinconica.
Buona canzone, anche presentata all'Hammer Of Doom in Germania il 31 Gennaio scorso, festival del quale hanno fatto parte anche i nostri "In Aevum Agere". E come biasimare il vecchio volpone Bruno Masulli! E' presente in parecchi gruppi, figuriamoci se si lascia scappare un'occasione del genere!
"The Darkness Teller", canzone che probabilmente (a detta dell'artista) non farà parte del prossimo album, è invece più lenta e macchinosa ma lontana dall'essere banale nonostante la sua predisposizione alla ripetizione, effetto naturalmente voluto e francamente molto buono per sottolineare al meglio le liriche, profonde e deprimenti quanto basta.
Passando la parola alla famosa, sensazionale "'A Livella" cosa potrei dire se non "Bruno, mannaggia a te! Mi hai fatto venire la pelle d'oca!" ?
Poesia del mitito Totò e recitata dal nostro, ormai eroe, Bruno Masulli, è una semplice ma non per questo banale traccia che sembra prelevata da un audio-libro di letteratura.
Interpretata in modo stupefacente dal nostro amico napoletano in pieno stile partenopeo, meraviglioso, suggestivo, grottesco e assolutamente commovente. "'A morte 'o ssaje ched'è?...è una livella, 'nu re, 'nu magistrato, 'nu grand'ommo.", eh sì, il lato oscuro di Antonio De Curtis senza dubbio.
Attendiamo il futuro album, nel frattempo torno a commuovermi con la livella. Mi dispiace solo che molta gente ignorante non riuscirà mai a comprendere l'effettiva profondità di tale poesia.
Track by Track
Labyinth Of Emptiness

75

The Darkness Teller

70

'A Livella (Special Bonus Track)

95
Giudizio Confezione
Qualità Audio:

70

Qualità Artwork:

70

Originalità:

80

Tecnica:

70
Recensione di
carnival creation

»
pubblicata il --. Articolo letto
2050
volte.
Articoli Correlati