Dominance «Echoes of Human Decay» (2009)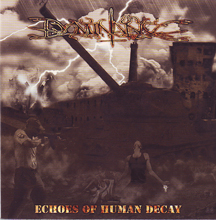 Autore:
June

»
Recensione Pubblicata il:
--
Visualizzazioni:
1626
Band:
Dominance





Titolo:
Echoes of Human Decay
Nazione:
Italia
Formazione:
Mauro Bolognesi :: Vocals
Gianluca Fontanesi :: Guitars
Marco Bertolini :: Guitars
Saverio Rossi :: Bass
Davide Tognoni :: Drums
Genere:
Durata:
46' 24"
Formato:
Data di Uscita:
2009
Etichetta:
Distribuzione:
---
Agenzia di Promozione:
---
Recensione
Per una band sfiorare il ventennio di presenza nell'underground italiano è indice di coerenza e grandi capacità, oltreché di nervi saldi. Infatti, già dalla pure breve biografia scritta, sebbene la band esista dal '92, ha dovuto sostenere diverse difficoltà e cambi di etichetta prima di riuscire ad approdare alla Scarlet Records per il loro primo album, uscito nel '99. Ora sotto Kolony rilasciano il loro secondo disco "Echoes of Human Decay". Dev'essere abbastanza complesso sopravvivere come band death metal in un ambiente come quello italiano, ma loro sono ancora qui integri e puri, senza devianze a nessuna tendenza: niente (o quasi) melodie, niente metalcore, una sparata di violenza alla vecchia maniera americana dei primi anni 90, accostabile alle produzioni dei Suffocation, anche se il paragone non è così immediato. Questo purtroppo rappresenta un po' il limite del gruppo, le sonorità sono particolarmente monolitiche e ben definite all'interno del genere; mi vien da fare un discorso simile a quello che ho fatto per i Mortal Form, band olandese: le tracce sono tutte di ottima qualità e anche non portando nulla di marcatamente nuovo si riesce ad esaltarsi come si conviene. Si tratta in fondo dei termini entro cui il genere sguazza alla perfezione e in questo i Dominance si trovano a loro agio; una traccia come "Primordial" con i riff cupi in gradi di ricordare i tempi migliori dei Morbid Angel, insieme ai Deicide, non è cosa alla portata di tutti. L'eccessiva monoliticità tenderebbe ad annoiare, ma c'è da dire che per alcuni questa è una prerogativa (la monoliticità), e la band ci mette del suo per cercare di imboccare delle strade meno battute: le deviazioni melodiche di "Gilgamesh", costellate da un bello scambio di assoli delle due chitarre, oppure le tentazioni black dell'introduzione (anche oltre...) di "Duellists", quest'ultimo vera gemma del disco. Altrove si pigia sull'acceleratore tra parti più o meno canoniche, ma mai scadenti e mai semplicistiche.
Insomma, non mi dilungherò oltre: un album di puro death metal come si usa oggi, cosparso di ricercatezze chitarristiche, rapido e potente e che moltissimi gruppi famosissimi, concentrati su produzioni sempre più brillanti hanno dimenticato come si fa.
Track by Track
Dead Mechanism

60

Last Witness

70

Gilgamesh

75

Primordial

80

The Siege

75

Duellists

75

The Temple of Two Queens

70

Unholy Birth

70

The Sailor

70

Like a Distant Thunder

70
Giudizio Confezione
Qualità Audio:

80

Qualità Artwork:

60

Originalità:

60

Tecnica:

75
Recensione di
June

»
pubblicata il --. Articolo letto
1626
volte.
Articoli Correlati