Infernal Poetry «Not Light but Rather Visible Darkness» (2002)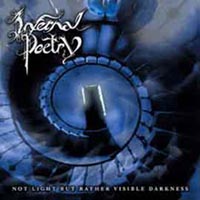 Autore:
Belial

»
Recensione Pubblicata il:
--
Visualizzazioni:
3271
Band:
Infernal Poetry






Titolo:
Not Light but Rather Visible Darkness
Nazione:
Italia
Formazione:
Paolo Ojetti – Vocals
Daniele Galassi – Guitars
Christian Morbidoni – Guitars
Alessandro Infusini – Bass
Andrea Rabuini – Drums
Genere:
Durata:
51' 15"
Formato:
Data di Uscita:
2002
Etichetta:
Distribuzione:
---
Agenzia di Promozione:
---
Recensione
Alla mia prima recensione gia' mi diletto a 'giudicare' uno dei gruppi che nell'underground metal hanno una nomea molto molto buona, ecco a voi gli Infernal Poetry, un simpatico folto gruppo di ragazzotti che fanno un sano death, preciso anticipatamente che non mettero' definizioni del tipo ' Death/Gothic/Doom' ecc. ecc. perche' tali associazioni non fanno altro che dare adito a una serie inumerevole di sciocchezze.
Partendo dai precedenti dischi degli Infernal Poetry che nascono nel 1996 (con il nome NECRONOMICON n.d.r.), denotiamo una grande crescita musicale e concettuale.. cmq per non essere ne' troppo prolisso ne troppo ridondante cercate il 'Promo 98' e il CD 'In the Sign of the Evil Creature'.
Passiamo ora a un'analisi di questa opera, un track by track un po' piu' approfondito: ottimi i passaggi su 'Till the Seventh Sky e Deviation in Sacrality, molto ben impostate le sezioni di 'Drummeria', apprezzo soprattutto il non eccessivo virtuosismo delle chitarre che cmq armeggiandosi con interessanti sdoppiati mostrano un certo livello di capacita' che sicuramente mi aspettavo di trovare.
Vorrei 'sprecare' 2 paroline per una strofa di 'From Mortal Body to Eternal Soul': [..] Born from your brain, sucking blood from your veins, I'm your own God Hollow inside, filled with your thoughts, I'm your own God [...], queste parole riassumono il mio concetto di 'Visione Superiore' e chi ha orecchie per udire, oda.
Per il resto tutti i brani fra alti e bassi mi sono piaciuti, ma mi pongo una sola domanda: Perche' mettere 2 ballate metal sullo stile Manowar mescolato agli intro di 'The Mind I' dei Dark Tranquillity? La risposta non la so' pero' nel globale sono rimasto piacevolmente stupito da una cosa del genere.
Al Dunque Buoni Testi buona Musica, Buona Tecnica, Buon Gusto e a voi tutti che ve lo troverete per le mani Buon Ascolto. Stay Metal everywhere!
Track by Track
Overture: Remembrance

80

'Till The Seventh Sky

80

From Mortal Body to Eternal Soul

80

Wizard Touch – Part I

70

Deviation in Sacrality

85

Pragmatic Gemini

85

Jester's Elegy

80

Hell Spawn

80

The Higher Cause

80

Wizard Tourch – Part II

70
Giudizio Confezione
Qualità Audio:

90

Qualità Artwork:

80

Originalità:

80

Tecnica:

90
Recensione di
Belial

»
pubblicata il --. Articolo letto
3271
volte.
Articoli Correlati
Interviste
Live Reports
Spiacenti!

Non sono disponibili Live Reports correlati.
Concerti
Spiacenti!

Non sono disponibili concerti correlati.