BLEED SOMEONE DRY: ripubblicano l'album "Subjects" con Wormholedeath Records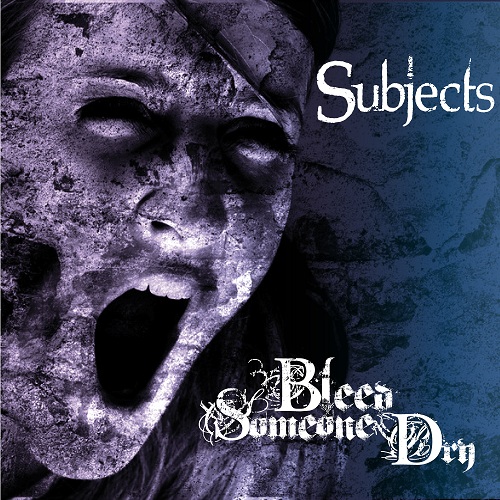 La Wormholedeath Records è lieta ed orgogliosa di annunciare che i Bleed Someone Dry hanno firmato un accordo per la ri-pubblicazione del loro album "Subjects" !
L'album è già disponibile sulle piattaforme digitali ed include la bonus track "It's a Secret", mixata dal guru del noise Christian Donaldson.
Potete ascoltare il brano in streaming al seguente link (Courtesy of Scrawl Game):
http://www.youtube.com/watch?v=d3614-ISxHU
Di seguito l'elenco degli online shops e le date di release:
iTunes 2014-05-02
MediaNet 2014-05-03
Rhapsody 2014-05-02
eMusic 2014-05-05
24/7 2014-05-25
7 Digital 2014-05-02
Nokia 2014-05-06
Telecom Italia S.p.A 2014-05-02
Starzik SARL 2014-05-09
Mix&Burn 2014-05-02
Amazon Digital Services Inc. 2014-05-02
Spotify 2014-05-02
Xbox Music 2014-05-02
Gracenote 2014-05-03
BMAT 2014-05-02
deezer 2014-05-02
Shazam 2014-05-14
Mobizone 2014-05-09
Aspiro 2014-05-02
Omnifone 2014-05-03
rDio 2014-05-02
Audible Magic 2014-05-10
simfy GmbH 2014-05-02
Yandex LLC 2014-05-02
Internet Bookshop Italia Srl 2014-05-02
Psonar Limited 2014-05-22
Boinc 2014-05-03
Phononet 2014-05-26
Google Music 2014-05-02
Cricket Communications, Inc. 2014-05-03
Bloom.FM (Digital Distributution Networks) 2014-05-02
Zik (Groupe Archambault) 2014-05-02
JB Hi-Fi 2014-05-02
Library Ideas / Freegal 2014-05-26
Neurotic Media 2014-05-11
SoundCloud 2014-05-02
Tuned Global 2014-05-09
Album tracklist:
Bleed
As Broken Shards
Subjects
Corrosive Whisper
Wide Open Jaws
Jab of Hatred
By My Horny Hands
The Law Is Not Equal for All
'Till the End
It's a Secret Bleed Someone Dry
La Wormholedeath ha dichiarato:
" Se voi conosceste le persone di cui sto parlando capireste come mai la Wormholedeath voglia supportare i Bleed Someone Dry! Che sia un passo in avanti grande o piccolo , non importa dal momento che sappiamo già che la band ci dimostrerà comunque sempre la propria gratitudine! Jonathan Mazzeo è un ottimo produttore ed un grande musicista; è a lui che dobbiamo buona parte delle nostre migliori pubblicazioni! Alfeo Ginetti ci ha aiutato tantissimo quando alcune delle nostre bands hanno avuto bisogno di un batterista sostitutivo. Mattia ed Alessio sono due bravi musicisti e buoni amici, quindi per noi è stato più che naturale cominciare questa collaborazione. Se ascolttate il teaser "It's a Secret" vi renderete conto del suono brutale di cui questi ragazzi sono capaci! Supportate i BSD, ne vale davvero la pena!!!"
I Bleed Someone Dry hanno dichiarato:
"Siamo estremamente orgogliosi di far parte di questa grande famiglia che è la Wormholedeath Records tanto che abbiamo registrato per l'occasione un pezzo in esclusiva intitolato "It's a Secret"! Grazie al mixaggio di Chris Donaldson ( The Agonist, Beneath the massacre, Obey the Grave) il brano ha acquisito sonorità più moderne ed interessanti di impronta chiaramente americana. Con questa dichiarazione vogliamo anche cogliere l'occasione per ringraziare Worm e tutto il team della Wormholedeath per la loro fiducia nei nostri confronti e per il supporto dimostrato fin'ora. Siamo sicuri che con il loro aiuto i nostri sforzi verranno ampiamente ripagati!"
Reference links:
http://www.bleedsomeonedry.com
https://www.facebook.com/BleedSomeoneDry
http://www.wormholedeath.com
Inserita da:
Jerico
il 09.06.2014 - Letture:
1263
Articoli Correlati
Interviste
Spiacenti!

Non sono disponibili Interviste correlate.
Live Reports
Spiacenti!

Non sono disponibili Live Reports correlati.
Concerti
Spiacenti!

Non sono disponibili concerti correlati.
Altre News di MetalWave
Notizia Precedente
Notizia Successiva