BLEED SOMEONE DRY: i dettagli del nuovo "Subjects"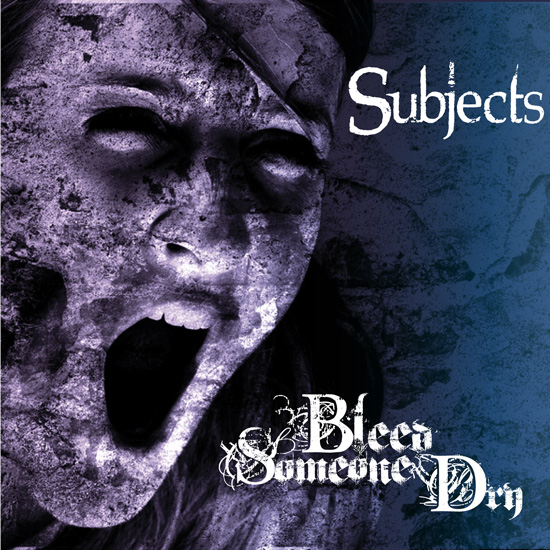 Kreative Klan è orgogliosa di presentare il nuovo lavoro dei Bleed Someone Dry: Subjects.
Nove tracce di rabbioso mathcore (che vede nei Norma Jean e nei Meshuggah i suoi principali ispiratori) che vanno a comporre questo lavoro della band di Pistoia, al proprio secondo debutto, questa volta sotto l'egida della doppia kappa.
Siamo forse davanti ad una delle migliori produzioni di questi ultimi tempi nella scena italiana, dove i BsD, anche in seguito a periodi di inattività e cambi di formazione, hanno saputo sfornare un prodotto decisamente valido e di sicuro impatto.
Di seguito la tracklsit:
1. Bleed
2. As Broken Shards
3. Subjects
4. Corrosive Whisper
5. Wide Open Jaws
6. Jab of Hatred
7. By My Horny Hands
8. The Law Is Not Equal for All
9. 'Till the End
La band Bleed Someone Dry nasce nel 2007 a Pistoia. La line-up originale era formata dai membri della band Revolt, che decisero poi di cambiare nome in Bleed Someone Dry quando Jonny e Ruben arrivarono come nuovi innesti. La band ha deciso fin da subito di intraprendere la strada di un suono duro, crudo e distorto, accompagnato da voci strazianti e disumane, prendendo a modello il mathcore di band come Norma Jean, Meshuggah, Five Star Prison Cell e Car Bomb. Dopo aver ripubblicato il proprio album di debutto con l'etichetta indie UK Division, i BsD si sono fatti carico di una serie di concerti, attraversando l'Italia e l'Europa, facendosi sempre più conoscere ed apprezzare. Nel 2011, la band si prende un periodo di pausa forzato, a causa di avvicendamenti nei ruoli e progetti paralleli. Verso la fine del 2011, la formazione si stabilizza, che vedono Alessio (ex Ashes Of Truth), Marco (ex Symbiotic), Alfeo (ex Chaoscore) unirsi a Jonny. Dopo un consueto periodo di produzione, esce nell'Ottobre 2012 il nuovo album 'Subject', registrato al MathLab Recording Studio di Prato, e con mix e mastering di Mirko Nosari di Kreative Klan Studio.
Il concept che sta dietro a 'Subject' è nel titolo stesso, ovvero schiavitù. Non si parla letteralmente di schiavitù, ma in senso lato di "quella sensazione di sottomissione e oppressione che un tal individuo prova ogni giorno nella routine della vita quotidiana; la manipolazione, le ingiustizie, la corruzione sono le armi che il nemico utilizza per piegare la libertà di essere del tal individuo" ci spiegano i BsD. Non c'è nessun colore politico nel messaggio che i BsD vogliono far arrivare all'ascoltatore, solo cercare di risvegliare le coscienze di chi, senza accorgerene, vive tutti i giorni ingabbiato, chiuso nelle spire della politica da salotto, della religione, delle mode e dei paraocchi. Restano quindi due cose da fare: "piegarsi al nemico superiore e vivere all'interno di canoni prefissati in un ambiente di obbedienza e sottomissione, oppure riconoscere la realtà per quello che è, ribellarsi, lottare e sanguinare fino alla fine per raggiungere l'indipendenza".
I testi e le tematiche dell'album si dividono sostanzialmente in due filoni: gli uni sono attacchi diretti a specifiche realtà (politica, religione), gli altri più onirici e generali, diretti all'individuo stesso.
I Bleed Someone Dry hanno già all'attivo un album, 'The World Is Falling In Tragedy', uscito nel 2007 per UK Division, e hanno partecipato a diverse compilation, 'Italia Violenta' (2008), 'Clouds From The Earth – Neuroprison comp.' (2008), e 'Invasione Totale – Granducato di Metallo comp.' (2009).
Band:
Alessio Bruni Vocalist
Jonathan Mazzeo All Six Strings
Marco Ferro All Six Strings
Mattia Baldanzi Bassist
Alfeo Ginetti Drummer
You can also find Bleed Someone Dry here:
Web
http://www.bleedsomeonedry.com
Facebook it-it.facebook.com/pages/Bleed-Someone-Dry/76194908224
Myspace
http://www.myspace.com/bleedsomeonedry
Bandcamp bleedsomeonedryofficial.bandcamp.com
Contacts (for any questions and informations)
Tel. 392/9336335 Jonathan Mazzeo
E-mail. live@bleedsomeonedry.com
Kreative Klan:
Web
http://www.kreativeklan.com
Facebook
http://www.facebook.com/pages/Kreative-Klan/202962917299
Twitter
http://twitter.com/KreativeKlan
You Tube
http://www.youtube.com/kreativeklantv
Inserita da:
Jerico
il 20.10.2012 - Letture:
1466
Articoli Correlati
Interviste
Spiacenti!

Non sono disponibili Interviste correlate.
Live Reports
Spiacenti!

Non sono disponibili Live Reports correlati.
Concerti
Spiacenti!

Non sono disponibili concerti correlati.
Altre News di MetalWave
Notizia Precedente
Notizia Successiva