WAKE ARKANE: prima volta a Roma con BLIND HORIZON e BLACK THERAPY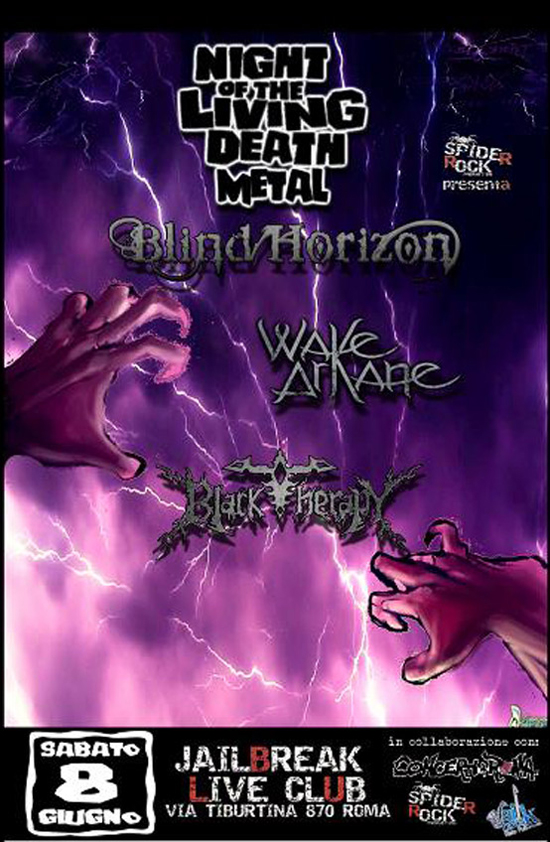 Sabato 08 giugno 2013:
BLACK THERAPY
I Black Therapy , forti del loro debut 'Symptoms of a Common Sickness' (Revalve Records), richiamano il sound e le atmosfere dei maestri del Melodic Death Metal Europeo ma con una grande dose del loro trademark di furioso death metal spezzato da momenti classici e acustici di grande atmosfera. L'album è stato mixato da Bob Romano (ADE) ai MI studios di Hollywood e masterizzato agli Hertz studio in Polonia (Behemoth, Vader, Desaster).
Videoclip ufficiale del singolo:
http://www.youtube.com/watch?v=aVIwSoHaHgg
FB:
https://www.facebook.com/blacktherapyband
Sito ufficiale:
http://www.blacktherapy.it/site/
WAKE ARKANE
Direttamente da Milano una delle realtà più interessanti nel panorama Death (e non solo) italiano: per la prima volta a Roma i Wake Arkane! Il loro album di esordio "The Black Season" si avvale del prestigioso contributo del musicista e produttore svedese DAN SWANÖ (Edge of Sanity, Nightingale, Bloodbath, Pan-thy-monium), il quale partecipa come guest vocalist nel brano "The Numb Experience" e cura il mastering dell'intero full-lenght presso i suoi studi, gli UNISOUND di Örebro. Al momento sono al lavoro sul nuovo album e la loro proposta musicale spazia con disinvoltura dal Death Melodico a passaggi più Progressive: devastanti in sede Live !
FB:
https://www.facebook.com/wakearkane
Sito Ufficiale:
http://www.wakearkane.com/
BLIND HORIZON
Dopo aver rilasciato l'EP "Dissociated Knowledge" (scaricabile gratuitamente dal loro sito), i Blind Horizon tornano live per "scappare dallo studio" , prendersi una pausa dalla composizione del nuovo album e prepararsi alle date estive: l'occasione per testare live nuovi e vecchi pezzi, in un turbinio di Death Metal che strizza l'occhio a tutti i sottogeneri (dallo swedish al technical) con forti richiami al prog.
FB:
https://www.facebook.com/itblindhorizon
Sito Ufficiale:http://www.blindhorizon.net/
Info su orari e costo (contenuto!) a breve
Jailbreak Live Club,
Via Tiburtina 870 (tra le fermate della Metro B - S.M. del Soccorso e Ponte Mammolo)
Sponsored by:
Spider Rock:
http://www.spiderrockpromotion.it/
Concerti a Roma:
https://www.facebook.com/groups/concertiaroma/
Jailbreak Live club:
http://www.jailbreakclublive.com
Inserita da:
Jerico
il 02.05.2013 - Letture:
1705
Articoli Correlati
Altre News di MetalWave