ROMAOBSCURA FEST: gli orari di esibizione delle band del festival romano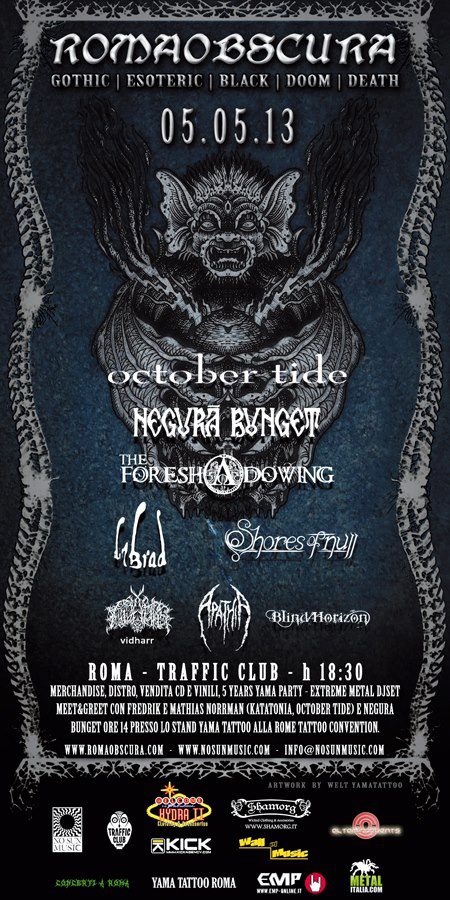 No Sun Music, Traffic Live Club, Wall Of Music, Altamira Events, presentano:
ROMAOBSCURA FEST
domenica 5 maggio 2013
apertura ore 18.30
ticket:
20€ il giorno dell'evento
18€ su prenotazione entro il 30 aprile
25€ ticket + romaobscura thsirt (artwork by Welt Yamatattoo). T-shirt disponibili fino a esaurimento
Vedi la t-shirt sul sito
http://www.romaobscura.com
info e prenotazioni: info@nosunmusic.com
OCTOBER TIDE - h00.00
http://www.octobertide.net
gothic/doom, Svezia, Pulverised Records, membri di KATATONIA - UNICA DATA ITALIANA e PRIMA VOLTA A ROMA
NEGURA BUNGET - h22.55
http://www.negurabunget.com
black/folk, Transilvania, Prophecy Records, nuovo album in uscita
THE FORESHADOWING - h21.55
http://www.theforeshadowing.com
gothic/doom, Cyclone Empire Records, di ritorno dal tour americano con Marduk, Moonspell, Inquisition
DIN BRAD - h21.10
http://www.facebook.com/dinbrad
ambient/folk, Transilvania, Prophecy Records, membri dei Negura Bunget
SHORES OF NULL - h20.30
http://www.shoresofnull.com
gothic/doom/death, con membri di Zippo, The Orange Man Theory, Noumeno, Mens Phrenetica.
VIDHARR - h19.50
http://www.facebook.com/VidharrLegion
black/doom, presentazione del nuovo album "Cryo"
APATHIA - h19.15
http://www.apathia.it
black/depressive
BLIND HORIZON - h18.40
http://www.blindhorizon.net
death
All'interno del festival mostre, esibizioni di foto, tattoo, merch, extreme metal djset by Jorge.
ROMA OBSCURA FEST in collaborazione con ROME TATTOO EXPO presentano:
Domenica 5 maggio 2013 nella Rome tattoo convention, presso lo stand YAMA TATTOO dalle 14:00 alle 15:00, MEET&GREET con Fredrik e Mathias Norrman, membri storici dei KATATONIA, ora OCTOBER TIDE, e con Negru di DIN BRAD e NEGURA BUNGET.
http://www.tattooexporoma.com
http://www.yamatattoostudio.com
Sponsored by:
Yama Tattoo (
http://www.yamatattoostudio.com
)
Shamorg Shop (
http://www.shamorg.it
)
Hydra AlternativeShop (
http://www.facebook.com/HYDRA2
)
EMP (
http://www.emp-online.it
)
Metalitalia.com (
http://www.metalitalia.com
)
Concerti A Roma (
http://www.facebook.com/groups/concertiaroma/
)
http://WWW.ROMAOBSCURA.COM
http://WWW.NOSUNMUSIC.COM
Inserita da:
Jerico
il 02.05.2013 - Letture:
1715
Articoli Correlati
Altre News di MetalWave