NIGHT OF THE SPEED DEMONS: il bill della sesta edizione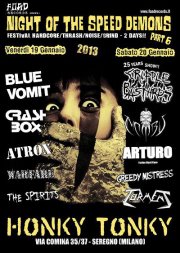 Honky Tonky e FOAD Records presentano:
"NIGHT OF THE SPEED DEMONS Pt.6" Fest @ HONKY TONKY, con:
CRIPPLE BASTARDS, BLUE VOMIT, ARTURO, MOMBU, CRASH BOX, ATROX, WARFARE, GREEDY MISTRESS, THE SPIRITS, TORMENT...
Siamo lieti di annunciarvi che quest'anno ospiteremo una due giorni di musica davvero importantissima: venerdi 18 gennaio e sabato 19 gennaio il "Night of the Speed Demons" terrà tappa qui all'Honky Tonky di Seregno!
"NIGHT OF THE SPEED DEMONS" Festival compie 10 anni e approda alla sua sesta edizione, di nuovo espanso a due giorni e con una scaletta che spazia da numerosi pesi massimi del Punk/Hardcore italiano anni 80 e 90 al Thrash/HC, al Jazzcore dei MOMBU, al Grind/Hatecore dei CRIPPLE BASTARDS che, per l'occasione (e per pochissime altre date a seguire), festeggeranno il loro venticinquesimo anniversario 1988-2013.
BLUE VOMIT, CRASH BOX, ATROX, WARFARE, CRIPPLE BASTARDS, ARTURO, MOMBU e la lista prosegue!!
10 band in 2 giorni di sbrindellamento sonoro garantito, evento organizzato da FOAD Records e per la prima volta ospitato dall'Honky Tonky di Seregno!
On stage:
Tutte e due le serate inizieranno presto, quindi venire presto: dalle 21.
Venerdì 18 Gennaio 2013 - PROGRAMMA
=====================
- BLUE VOMIT [Torino] gran ritorno sui palchi dopo 30 anni!
Una vera icona del Punk Torinese più nichilista e sfrontato, tra i primi ad essere passati dal periodo '77iano all'impatto Hardcore.
Le loro radici genereranno il germe malefico dei NERORGASMO e il mito che ne è derivato
- CRASH BOX [Milano]
Un altro capitolo di storia, Hardcore Milano since 1982! Imminente doppio CD discografia su FOAD Records e arricchito dall'aggiunta speciale di alcuni pezzi nuovissimi, del tutto inediti
- ATROX [Milano]
Ancora un'istituzione Milano Hardcore dal 1982!
- WARFARE [Gorizia]
Inossidabili, DIY Punk/Hardcore dalla costa Est, in attivo da oltre 30 anni
- THE SPIRITS [Torino]
Punk sanguinario da Torino nella tradizione più nera della motorcity
Sabato 19 Gennaio 2013 - PROGRAMMA
=====================
- CRIPPLE BASTARDS
Da 25 anni in attività, Grind/Hatecore senza compromessi, mai sciolti - mai riformati - mai rimpianti.
Tour in tutto il mondo, una discografia infinita, album nuovo in arrivo...
- MOMBU [Roma]
La fusione più psicopatica di afrobeat, jazz acido, grind e doom con Luca ZU al sax!
- ARTURO [Torino]
Leggenda Torino Hardcore, anche loro indistruttibili!
- GREEDY MISTRESS [Milano]
(Sexploitation Hardcore/Rock dalla Brianza)
- TORMENT [Milano]
(Thrash/Death da Milano, presentano il nuovo CD "The damage is done")
Inserita da:
HeavyGabry
il 21.11.2012 - Letture:
1445
Articoli Correlati
Altre News di MetalWave
Notizia Precedente
Notizia Successiva