ENDLESS PAIN: in arrivo "COURSE OF HATE"!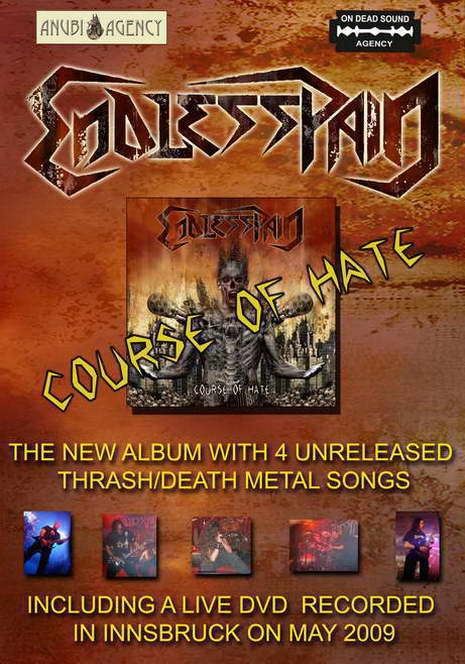 I thrashers bresciani ENDLESS PAIN sono lieti di annunciare l'ormai prossima studio-release che segue il fortunato "DE-GENERATION WAR", accolto da fan e addetti ai lavori con critiche discordanti, ma positive. "COURSE OF HATE", quinta fatica in studio del combo lombardo, conterrà 4 brani inediti della band e sarà inoltre corredata da un DVD contenente l'intera esibizione che il combo bresciano a tenuto il 22 Maggio a Innsbruck, ripresa con l'ausilio di ben sette telecamere dall'austriaca SILVERWOLF PRODUCTION.
A seguire la tracklist:
LET THE END BEGIN (Intro)
UNLEASHED THE FURY
SENSORIAL DEPRIVATION
BLOOD FEUD
FROM THE ASHES
LIVE DVD (Registrato al Livestage di Innsbruck il 22 Maggio 2009):
POISON INTO BLOOD
SMELL OF DEATH
COLD LIKE DEATH
RELIGION ILLUSION
MARK THE INNOCENT
SILENT SICKNESS
LORD OF NOTHING
PSYCHOPATIC
BURIED ALIVE
SINDON
"COURSE OF HATE" è il primo studio-work dei thrashers lombardi che vede dietro il microfono il nuovo singer HATE (già cantante dei deathsters bresciani EISEN), degno successore dell'istrionico LELLO. Registato tra i BEE-X STUDIOS e i PHOENIX STUDIOS, e mixato e masterizzato negli stessi PHOENIX STUDIOS da Emilio Rossi, il nuovo lavoro presenterà una vera evoluzione nel sound della band. Per info riguardo alla nuova release, mp3, live dates e tutto quanto riguarda la band è possibile contattatare direttamente la band tramite la pagina MySpace ufficiale:
ENDLESS PAIN Official MySpace page
A seguire alcune delle date confermate che vedranno impegnati i thrasher bresciani di supporto all'imminente release:
Venerdì 11 Dicembre
Presentazione Live "COURSE OF HATE"
Decimo Secolo - BRESCIA (IT)
Sabato 19 Dicembre
"ON X-MAS SOUNDZ (Desecrating Nativity Day) - PART IV"
with GORY BLISTER, HORRID, DEATH ARMY, KERNEL, BRUTAL MURDER
Marmaja Live Club - Cusano Milanino (MILANO) (IT)
Sabato 23 Gennaio
BLACK ROSE
with IRREVERENCE, DYSTOPYA
Acquafredda (BRESCIA) (IT)
Sabato 13 Marzo
"HELLISH SOLSTICE - METAL FEST 2010"
with BLACK OBSESSION and more
Olden Live Club - Lonato Del Garda (BRESCIA) (IT)
Disponibile per l'ascolto "UNLEASHED THE FURY" tratta da "COURSE OF HATE". Per ascoltarla visitate il MySpace ufficiale della band.
Inserita da:
Jerico
il 17.11.2009 - Letture:
1140
Articoli Correlati
Live Reports
Spiacenti!

Non sono disponibili Live Reports correlati.
Concerti
Spiacenti!

Non sono disponibili concerti correlati.
Altre News di MetalWave
Notizia Precedente
Notizia Successiva