ROCK HARD FESTIVAL ITALIA 2014: confermati DEICIDE e altri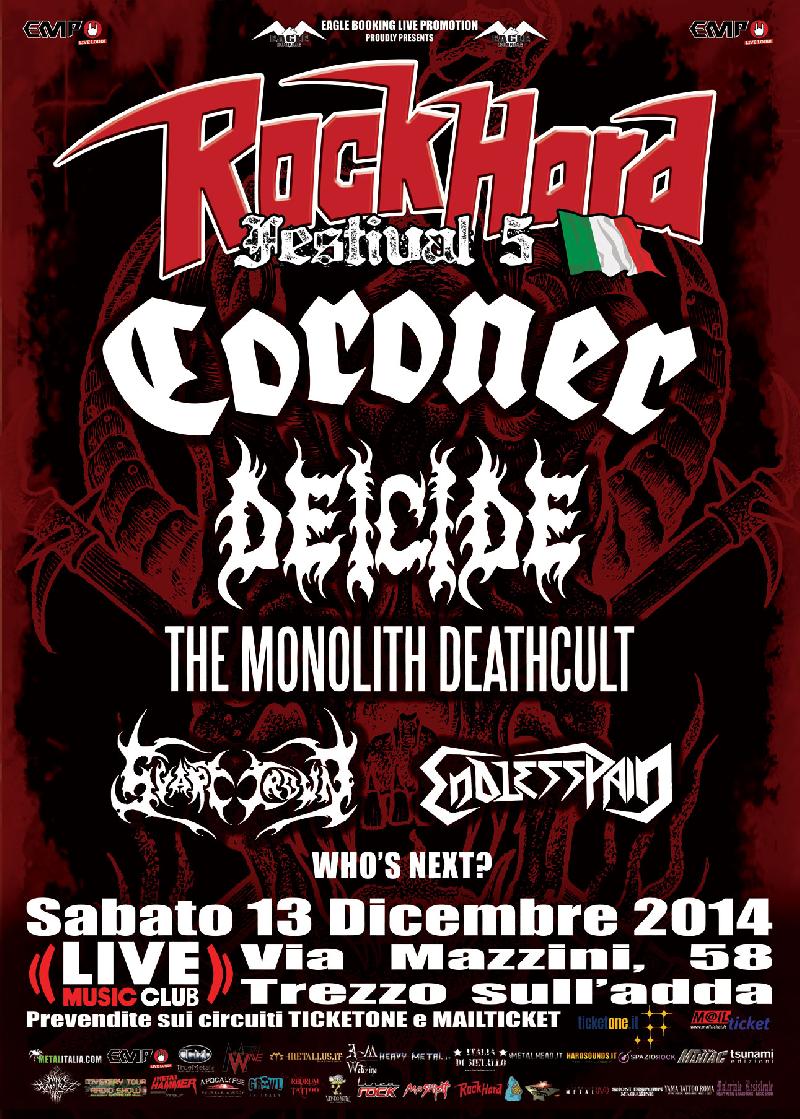 Arrivano nuove conferme per la quinta edizione del ROCK HARD FESTIVAL Italia. Al fianco di CORONER e THE MONOLITH DEATHCULT, tornano in Italia a tre anni di distanza i DEICIDE di Glen Benton, Voce indiscussa del male in terra e capostipite di un genere che dalla Florida è partito alla conquista del mondo ormai più di 25 anni fa.
Insieme al loro, sul prestigioso palco del Live Club di Trezzo sull'Adda, si aggiungono anche i blackster francesi SVART CROWN ed i bresciani ENDLESS PAIN , attualmente al lavoro sul nuovo album.
Sabato 13 Dicembre 2014
ROCK HARD FESTIVAL ITALIA
LIVE CLUB Viale Mazzini 58 Trezzo Sull'Adda (MI)
CORONER, DEICIDE, THE MONOLITH DEATHCULT, SVART CROWN, ENDLESS PAIN …. and many more!
BIGLIETTI
Il costo del biglietto è di €30 più diritti di prevendita. Prezzo in cassa €35
Le prevendite sono disponibili attraverso i seguenti circuiti e rivendite autorizzate:
TICKETONE
MAILTICKET
LIVE CLUB
Evento Facebook:
http://www.facebook.com/events/778703018846591/
ROCK HARD ITALY Official Web Site:
http://www.rockharditaly.com
LIVE MUSIC CLUB
http://www.liveclub.it
SPECIAL MEDIA PARTNER: Metalitalia.com
http://www.metalitalia.com
Supported by:
EMP Mailorder Italy
http://www.emp-online.it
Artwork e Poster:
Yama Tatto Studio
http://www.facebook.com/Yamatattoostudio
Inserita da:
Jerico
il 18.09.2014 - Letture:
1595
Articoli Correlati
Altre News di MetalWave