ENDLESS PAIN: i dettagli di "Cosa Nostra" in download gratuito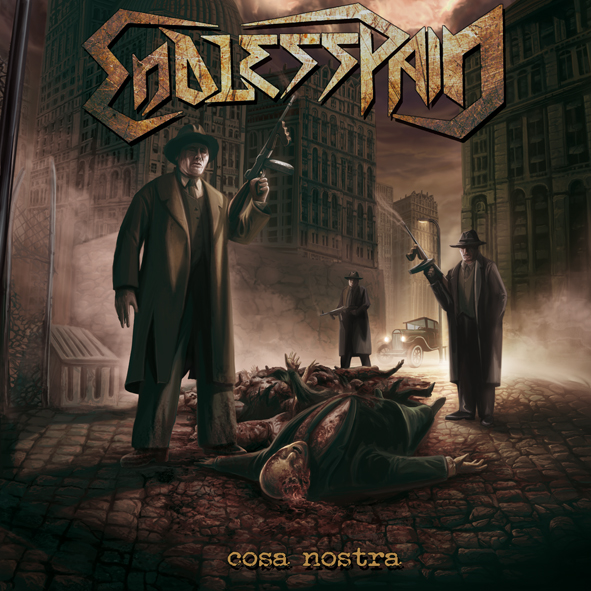 Tutto pronto per la pubblicazione di "Cosa Nostra" l'album che segna il ritorno degli ENDLESS PAIN, extreme metal band bresciana dalla carriera decennale.
L'uscita del disco è fissata per il 16 Marzo 2015 via BANKSVILLE RECORDS, sarà reperibile presso i negozi e le maggiori piattaforme digitali del settore. Inoltre per meglio diffondere la propria musica la band, in accordo con la casa discografica mette a disposizione l'intero album in download gratuito.
Le sessioni di registrazione sono avvenute presso i Nefertari Studios di Brescia, Il Mix è stato affidato a Stefano Morabito ed ai suoi 16th Cellar Studio (Hour of Penance, Fleshgod Apocalypse, Agony Face), per poi passare alle fasi di Mixing presso gli Hertz Studio (Behemoth, Antropofagus, Vader).
Sono 10 le tracce della nuova release:
1. Intro (23 Maggio 1992)
2. Nel Nome Del Padre
3. Dishonor Before Death (Burke The Infame)
4. Good Fuckin' Fellas
5. Murder Of Honor
6. Evil Empire (Cosa Nostra)
7. Omertà
8. Transversal Vendetta
9. The Left Hand
10. Outro (Donna Rosaria)
Copertina ed artwork sono ad opera di Marco Hasmann
ENLDSESS PAIN "Cosa Nostra" dal 16 Marzo 2015 - BANKSVILLE RECORDS, free digital download
Per info riguardo la nuova release, ordinare i cd o il merchandise ufficiale, mp3, live dates, news e tutto quanto riguarda gli ENDLESS PAIN è possibile visitare gli spazi web ufficiali:
ENDLESS PAIN Official Web Site
http://www.endlesspain.it
ENDLESS PAIN Official Fb Page
http://www.facebook.com/EndlessPainBand
BANKSVILLE RECORDS
http://www.banksvillerecords.com
Inserita da:
Jerico
il 09.03.2015 - Letture:
1676
Articoli Correlati
Live Reports
Spiacenti!

Non sono disponibili Live Reports correlati.
Concerti
Spiacenti!

Non sono disponibili concerti correlati.
Altre News di MetalWave