ROCK IN PARK: i dettagli della XXIV edizione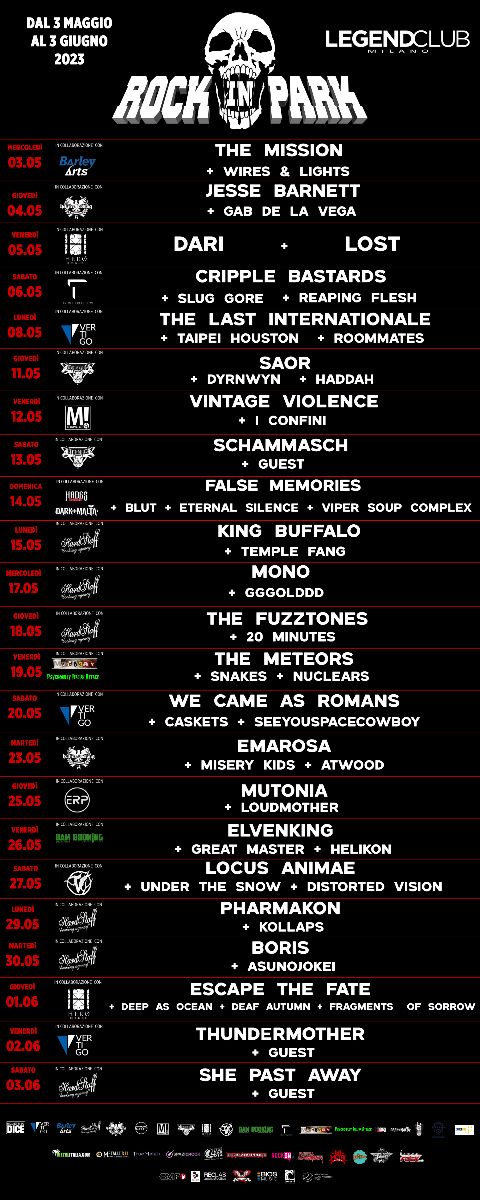 Con Aprile è ormai consuetudine l'annuncio del Rock in Park Festival!!!
Rassegna musicale, arrivata alla sua quattordicesima edizione, che inaugura ufficialmente da anni la stagione estiva al Legend Club Milano!!!
Gli eventi in programmazione dal 3 Maggio al 3 Giugno vedranno tantissimi artisti e band dai generi più disparati.
Siete pronti? Eccovi la programmazione e non dimenticatevi di cliccare su PARTECIPA a tutti gli eventi a cui siete interessati per rimanere sempre aggiornati a riguardo!
MERCOLEDÌ 3 MAGGIO
THE MISSION + WIRES & LIGHTS
GIOVEDÌ 4 MAGGIO
JESSE BARNETT (STICK TO YOUR GUNS) + GAB DE LA VEGA
VENERDÌ 5 MAGGIO
DARI + LOST
SABATO 6 MAGGIO
CRIPPLE BASTARDS + SLUG GORE + REAPING FLESH
LUNEDÌ 8 MAGGIO
THE LAST INTERNATIONALE + TAIPEI HOUSTON + ROOMMATES
GIOVEDÌ 11 MAGGIO
SAOR + DYRNWYN + HADDAH
VENERDÌ 12 MAGGIO
VINTAGE VIOLENCE + I CONFINI
SABATO 13 MAGGIO
SCHAMMASCH + GUEST
DOMENICA 14 MAGGIO
FALSE MEMORIES + BLUT + ETERNAL SILENCE + VIPER SOUP COMPLEX
LUNEDÌ 15 MAGGIO
KING BUFFALO + TEMPLE FANG
MERCOLEDÌ 17 MAGGIO
MONO + GGGOLDDD
GIOVEDÌ 18 MAGGIO
THE FUZZTONES + 20 MINUTES
VENERDÌ 19 MAGGIO
THE METEORS + SNAKES + NUCLEARS + DJSET BY OTTADJ
SABATO 20 MAGGIO
WE CAME AS ROMANS + CASKETS + SEEYOUSPACECOWBOY
MARTEDÌ 23 MAGGIO
EMAROSA + MISERY KIDS + ATWOOD
GIOVEDÌ 25 MAGGIO
MUTONIA + LOUDMOTHER
VENERDÌ 26 MAGGIO
ELVENKING + GREAT MASTER + HELIKON
SABATO 27 MAGGIO
LOCUS ANIMAE + UNDER THE SNOW + DISTORTED VISION
LUNEDÌ 29 MAGGIO
PHARMAKON + KOLLAPS
MARTEDÌ 30 MAGGIO
BORIS + ASUNOJOKEI
GIOVEDÌ 1 GIUGNO
ESCAPE THE FATE + DEEP AS OCEAN + DEAF AUTUMN + FRAGMENTS OF SORROW
VENERDÌ 2 GIUGNO
THUNDERMOTHER + GUEST
SABATO 3 GIUGNO
SHE PAST AWAY + GUEST
Vi ricordiamo che al Legend Club Milano è possibile cenare o godere di un ricco aperitivo, rilassati, immersi nel verde, mentre aspettate di godervi il concerto in programma!
Vi aspettiamo numerosi
Inserita da:
Jerico
il 24.04.2023 - Letture:
190
Articoli Correlati
Altre News di MetalWave
Notizia Precedente
Notizia Successiva