«VANS OFF THE WALL MUSIC NIGHT»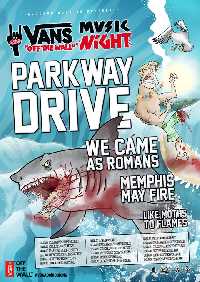 Data dell'Evento:
21.11.2013
Nome dell'Evento:
VANS OFF THE WALL MUSIC NIGHT
Band:
Parkway Drive
We Came As Romans
Memphis May Fire
Like Moths To Flames
Luogo dell'Evento:
Magazzini Generali
Città:
Milano (MI)
Autore:
Jezebel

»
Visualizzazioni:
3073
Live Report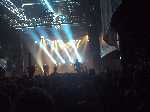 Arrivo ai Magazzini Generali di Milano poco prima che inizi a suonare la prima band facente parte della serata Vans Off The Wall Music Night. Il locale, sebbene non strapieno, pullula di kids che già occupano lo spazio davanti al palco. Avendo già visto tutte e quattro le band esibirsi nella data londinese del Vans Warped Tour, mi incuriosisce vedere che tipo di set e di concerto proporranno a Milano. Poco prima delle nove ecco salire sul palco i Like Moths to Flames, band dell'Ohio capitanata dal cantante Chris Roetter, che intrattiene la folla per circa mezz'ora con brani suonati a massimo volume. Si tratta di classico metalcore dall'inizio alla fine: scream, ritornelli melodici, distorsione. "Learn your place", "Gnf" e "You won't be missed" sono tra i pezzi del set della band americana, che suscita una discreta reazione nel pubblico, nonostante un po' di acerbezza e di fiacchezza, forse dovuta al tour de force del Vans Warped Tour. Il livello di attenzione e di interesse sale quando si esibiscono i Memphis May Fire. La band di Dallas propone un set più convinto, tutti i membri sembrano coinvolti ed empatici con l'audience. Il cantante Matty Mullins ringrazia più il volte il pubblico milanese e abbonda con i sermoni incoraggianti. "Without walls", "The sinner", "Vices" e "Prove me right" sono alcuni dei pezzi del set che dura più di mezz'ora. Nonostante qualche ritornello da stadio di troppo, il set è ben suonato e gli amanti del genere sono stati sicuramente soddisfatti. L'attesa per i Parkway Drive sale, ma prima di loro salgono sul palco i We Came as Romans, band del Michigan, dopo un mini sound check batteristico con tanto di paravento "firmato" WCAR. I sei ragazzi iniziano con uno dei pezzi più tirati dell'ultimo album, la titletrack "Tracing back roots" e proseguono con altri pezzi dell'album tra cui "Ghosts", "Fade away" o di album precedenti come "Mis//Understanding". Kyle Pavone, il clean vocalist, prova con successo a stare letteralmente in piedi sulla folla sostenuto dalle mani/braccia del pubblico. Dopo alcuni pezzi (tra cui la semi dance "Glad you came" e "Present, future and past") arriva la hit "Hope". L'esibizione scorre via veloce, sovrabbondante di melodie orecchiabili, con un Dave Stephens loquace e in forma . Dopo le undici arriva la parte clou della serata con l'intro gregoriano che segnala l'inizio del set dei Parkway Drive. La band spara a raffica "Dark days", "Sleepwalker", "Karma", "Home is for the heartless", tutte cantate entusiasticamente parola per parola dalla folla che, incitata dai cinque surfisti di Byron Bay, esegue "circles" a più non posso. L'atmosfera è carica ma comunque ordinata (a parte qualche ematoma e dente rotto!) e la band fa la sua parte emettendo suoni mostruosamente distorti e potenti, divertendosi a saltare qua e là. Il muro di decibel è così spesso che a tratti non si riescono a distinguere i singoli strumenti, rendendo il sempre ottimo growl/scream di McCall un po' tamponato. Il set continua senza sosta fino al momento della bella e riflessiva "The river" dove Winston urla accoratamente le lyrics dense di significato. Siamo a metà concerto. Dopo la frenata si riparte, il ritmo aumenta esponenzialmente e tra qualche solo di Jeff e il doppio pedale instancabile di Ben, la folla ha ancora energie per saltare durante "Deliver me" e "Wild eyes", vero apice della serata. A questo punto i Parkway Drive ringraziano e si assentano per qualche minuto, per poi essere richiamati a gran voce da tutto il pubblico che non può uscire dai Magazzini Generali senza aver ascoltato "Carrion". La band accontenta i fan e dopo un tripudio di cori, distorsione e luci, il concerto termina. I Parkway Drive sono risultati indubbiamente i migliori della serata, sono quelli che si sono sforzati di più di andare oltre la patina metalcore. Ho avuto la sensazione che questo tipo di situazioni, più ridotte rispetto ai grandi festival, riescano a far emergere maggiormente il sound della band, tutto basato su spontaneità e potenza. Da fan di vecchia data mi sarebbe piaciuto ascoltare anche qualche altro pezzo del loro repertorio, al di là delle hit, super richieste dai kids che a fine concerto hanno invaso i banchetti del merch.
Immagini della Serata
Recensione di
Jezebel
Articolo letto
3073
volte.
Articoli Correlati