FINGERNAILS: l'album d'addio ''The Last Scratch - 40th Anniversary''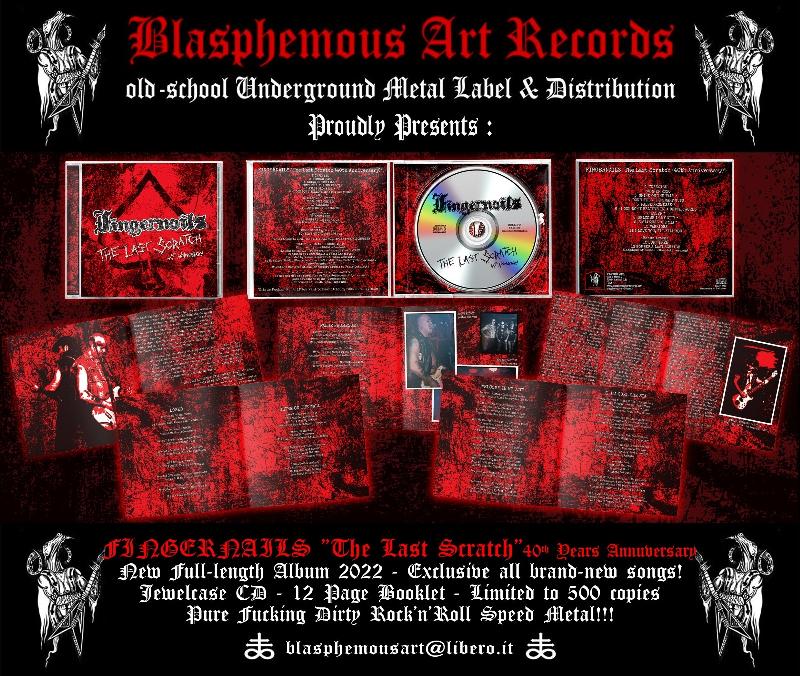 La lunga attesa è finalmente finita. La Blasphemous Art Records rende orgogliosamente disponibile l'ultimo, imperdibile, struggente lavoro targato Fingernails. The Last Scratch (40th Anniversary) celebra non solo quattro decadi di musica fieramente "contro" e completamente disinteressata alle mode e al mercato in quanto tale, ma anche la fine del cammino del gruppo. Una parabola cominciata nel 1981, proseguita passando cocciutamente attraverso concerti, dischi, dure perdite e una fiera, irriducibile devozione verso un certo tipo di rock'n'roll che non è solo musica, ma un vero modo di intendere la vita.
La morte di "Bomber" Santoni mette così fine alla storia dei Fingernails come li abbiamo sempre conosciuti, ma ci consegna un album pieno di vita, di voglia di suonare e di lasciare ai fan qualcosa di importante. Un'idea perfettamente raccontata dalle tredici canzoni in scaletta. Un album per chi ama il metal, il punk, gli eccessi e la vita on the road, ma sopra tutto per chi non distingue tra musica e modo di vivere sempre al massimo.
Total headbanging high energy heavy/speed metal for fans of Motörhead, Tank & Bulldozer!
https://www.youtube.com/watch?v=iHGmgqZodTg&ab_channel=FINGERNAILSAngusBidoli
Il CD è disponibile presso Detroit Rock City Music Store & Alternative Bar Cafè di Gallipoli, o ordinandolo alla mail blasphemousart@libero.it con spedizione worldwide tramite Corriere Espresso (Servizio Tracking).
Di seguito le note tecniche del prodotto:
Fingernails: "The Last Scratch (40th Anniversary)"
- New full-length Album 2022
- Jewelcase CD
- 12 page Booklet
- Limited to 500 copies
- Exclusive all brand-new songs
- Cover Artwork by Angelo Trosomaranus Marani
// Tracklist: //
1. Infected
2. Summer 2020
3. Shine on the Wall
4. Don't tell the Smart Guys
5. False Promesse
6. (I Don Don't Believe In) a Better World
7. Loser
8. Welcome in my City
9. E Sia Quel che Sia
10. Warriors
11. I Love You, I'll Kill You
Bonus Tracks:
12. Born Free
13. Bomber's Last Scratch (Lockdown of Bomber - Complete version)
// Line-up: //
Angus Bidoli: Guitar, Vocals
"Bomber" Santoni: Bass and Vocals
Luca "The Filter" Cetroni: Drums
https://www.youtube.com/user/angusbidoli
Music and lyrics Bidoli/Santoni
Blasphemous Art Records 2022
This Release is entirely dedicated to the mighty Marco "Bomber" Santoni (17th February 1969 - 26th November 2021).
Rest in Power, Brother!!!
Orders & Info Release: blasphemousart@libero.it
Mail Orders Available. PayPal & Poste Pay Accepted. Worldwide Shipping. Express Courier.
Send E-mail to receive the complete Blasphemous Art Records MAILORDER LIST
Blasphemous Art Records
http://www.blasphemousartrecords.com
blasphemousart@libero.it
Instagram: blasphemous art productions
Inserita da:
Jerico
il 05.08.2022 - Letture:
476
Articoli Correlati
Interviste
Spiacenti!

Non sono disponibili Interviste correlate.
Live Reports
Spiacenti!

Non sono disponibili Live Reports correlati.
Concerti
Spiacenti!

Non sono disponibili concerti correlati.
Altre News di MetalWave
Notizia Precedente
Notizia Successiva