RUN TO THE HILLS FESTIVAL: i dettagli dell'edizione 2013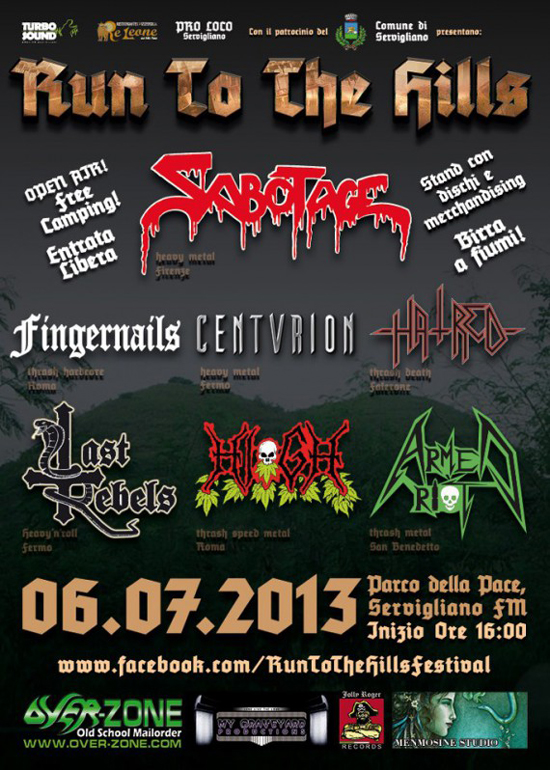 L'evento si svolgerà all'aperto sulle colline serviglianesi, all'interno del Parco della Pace, una vasta area che durante la giornata del 6 luglio, a partire dalle ore 16.00, sarà i nteramente dedicata al festival!
Per questa prima edizione l'entrata sarà GRATUITA!
All'interno dell'area saranno presenti stand con dischi (curati da My Graveyard Productions e Jolly Roger Records) e merchandising!
LE BAND
Ed ecco le 7 band che saliranno sul palco:
- Sabotage (Heavy Metal – Firenze)
- Fingernails ( Thrash Hardcore – Roma)
- Centvrion ( Heavy Metal – Fermo)
- Hatred ( Thrash Death – Falerone)
- Last Rebels (Heavy'n'Roll – Fermo)
- HI-GH (Thrash Speed Metal – Roma)
- Armed Riot (Thrash Metal – San Benedetto)
MANGIARE :
La ristorazione a pranzo e cena sarà interamente curata dal Ristorante Re Leone di Servigliano, che propone un menù a prezzi popolari e alcuni menù fissi:
Birra e panino €5.00
Bibita e panino €4.00
Pizza, birra e patatine €10.00
Pizza e birra € 8.00
Grigliata e birra € 9.00
Inoltre,DALLE ORE 18.00 ci sarà APERITIVO a base di SANGRIA & PALOMITAS!!!
DORMIRE:
Sarà messa a disposizione un'area campeggio GRATUITA nel parco dove sarà possibile montare le tende già a partire da venerdì 5 luglio.
Inserita da:
Jerico
il 03.06.2013 - Letture:
1434
Articoli Correlati
Altre News di MetalWave