LA RIOT SURVIVOR RECORDS: festeggia 10 anni di attivita'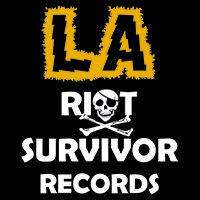 LA Riot Survivor Records festeggia 10 anni di attività con il lancio di un nuovo sito web
http://www.lariotsurvivor.com
. il sito presenta il catalogo dei dischi pubblicati e dei concerti organizzati dall' etichetta oltre al concerto in video inedito "Perversion 99 Live at Anthems of Steel France" e notizie sull'imminente EP Dusk, maestri della scena metal pakistana, influente band asiatica guidata da Babar Sheikh. Entrambe le versioni saranno fruibili online gratuitamente. L'etichetta è stata fondata a Roma in Italia dal cantante e produttore Anthony Drago storico frontman di band metal come Kaledon, The Raff e Fingernails e compositore di colonne sonore per film e teatro. Drago ha avuto collaborazioni con Larry Dunn, Fabio Liberatori, Beppe Cantarelli, Carlo Verdone, Carlo Vanzina, Gaetano Curreri, Iceone, Eric Daniel, Ugo Gregoretti e Giangiacomo Ladisa. Ha condiviso il palco con Dio, Paul Dianno, Uriah Heep, Marduk, Misfits, Vader, Strana Officina, Raw Power, Bulldozer e molti altri. L'etichetta prende il nome dalla sua esperienza di vita come testimone dei disordini di Los Angeles del 1992. Alcuni degli artisti che hanno lavorato dal vivo o in studio con LA Riot Survivor Records sono: Sister Whiskey, Dark Quarterer, Abigail, Deathhammer, Hobbs Angel of Death, Destruction, Wild Dogs, Fingernails, Evil Invaders, Villains, Hammer,Spidkilz, Stone Cold Black e molti altri. Nel marzo 2015 LA Riot Survivor Records ha aperto la sede a Londra nel Regno Unito.
LA Riot Survivor Records (Londra UK - Roma Italia)
Anthony Drago produttore
Maria Teresa Bovino direttore artistico
Beppe Volpini produzione video
Francesco Vinci ingegnere del suono
http://www.lariotsurvivor.com
Inserita da:
Jerico
il 01.09.2020 - Letture:
530
Articoli Correlati
Recensioni
Spiacenti!

Non sono disponibili Recensioni correlate.
Interviste
Spiacenti!

Non sono disponibili Interviste correlate.
Live Reports
Spiacenti!

Non sono disponibili Live Reports correlati.
Concerti
Spiacenti!

Non sono disponibili concerti correlati.
Altre News di MetalWave