LOUD AND PROUD FEST 2021: i dettagli della rassegna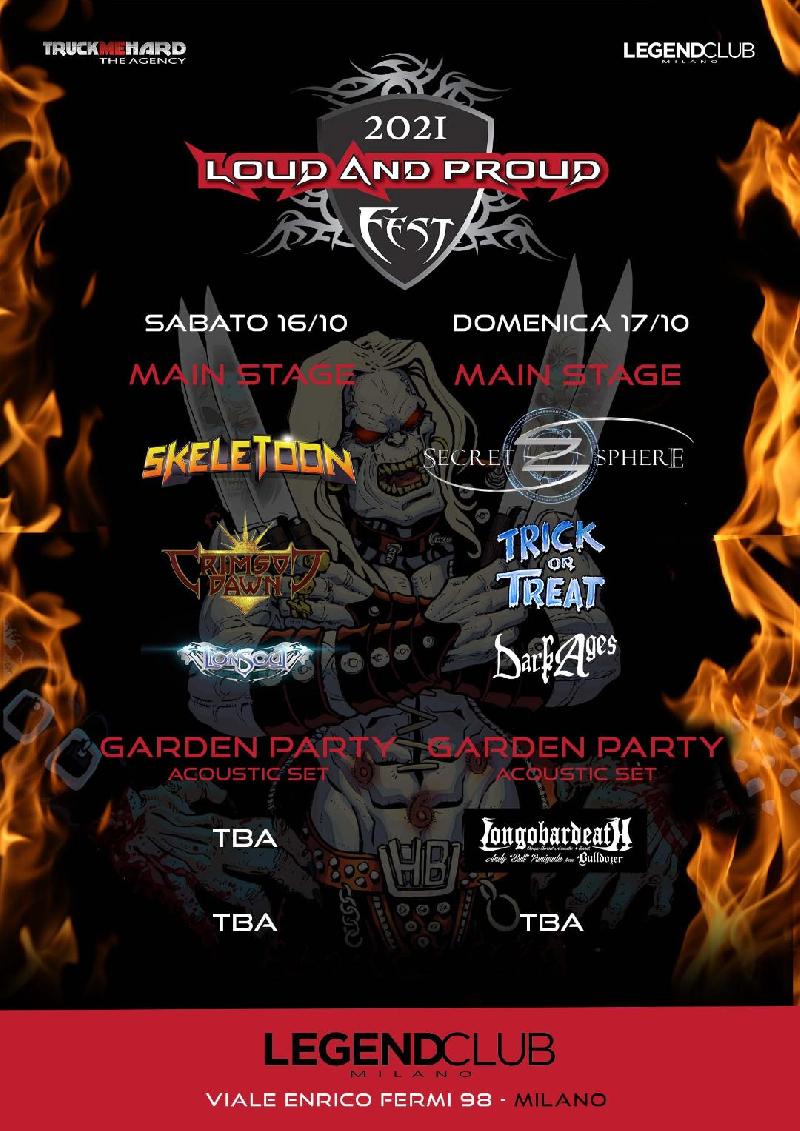 In un anno non certo facile per gli eventi live Truck Me Hard e Legend Club Milano hanno il piacere di presentarvi il Loud and Proud Fest 2021 che si svolgerà con una formula inedita al fine di potervi regalare la migliore esperienza possibile.
Il festival sarà articolato su due giorni, sabato 16 e domenica 17 ottobre 2021 presso il Legend Club Milano e si presenterà come festival "espanso", con due aree dedicate alla musica ed al divertimento.
All'interno del locale, sul palco principale, si esibiranno alcune tra le migliori realtà musicali italiane, tra grandi ritorni e show speciali, mentre nell'area esterna si potrà festeggiare accompagnati da dei set acustici.
La giornata di sabato 16 ottobre vedrà come headliner gli SKELETOON con il release party del nuovo album 'The 1.21 Gigawatts Club'. La nerd metal band sarà preceduta dai CRIMSON DAWN con la presentazione del nuovo singolo 'The Open Coffin', nonché l'esordio dal vivo del nuovo cantante Claudio Cesari. Ad aprire le danze saranno i bergamaschi LIONSOUL con il loro possente sound.
La giornata di domenica 17 ottobre vedrà in veste di headliner i SECRET SPHERE con il ritorno dello storico cantante Rob Messina. Sarà anche l'occasione per ascoltare per la prima volta dal vivo i brani tratti dall'ultimo album 'Lifeblood'. A precedere l'esibizione della band alessandrina ci saranno gli istrionici TRICK OR TREAT ed il progressive metal dei DARK AGES. Per quanto riguarda i set acustici possiamo già confermare la presenza dei LONGOBARDEATH, accompagnati per l'occasione da Andy "Bull" Panigada dei BULLDOZER.
Si ringrazia Enzo Rizzi per la realizzazione dell'artwork
Nei prossimi giorni verrà comunicato il bill completo con gli orari delle esibizioni, nonché tutte le informazioni in merito alle modalità di accesso, prezzo dei biglietti e modalità di prenotazione.
Loud and Proud Fest 2021 @ Legend Club Milano, Viale Enrico Fermi 98
Sabato 17 Ottobre
Main Stage:
SKELETOON – 'The 1.21 Gigawatts Club' Release Party
CRIMSON DAWN – Presentazione del nuovo singolo 'The Open Coffin'
LIONSOUL
Garden Party – Acoustic Show:
Tba
Tba
Domenica 18 Ottobre
Main Stage:
SECRET SPHERE – Special Reunion Party
TRICK OR TREAT
DARK AGES
Garden Party – Acoustic Show:
LONGOBARDEATH + Andy "Bull" Panigada from BULLDOZER
Tba
Inserita da:
Jerico
il 06.09.2021 - Letture:
540
Articoli Correlati
Altre News di MetalWave