BLACK WINTER FESTIVAL XII: poster e bill definitivo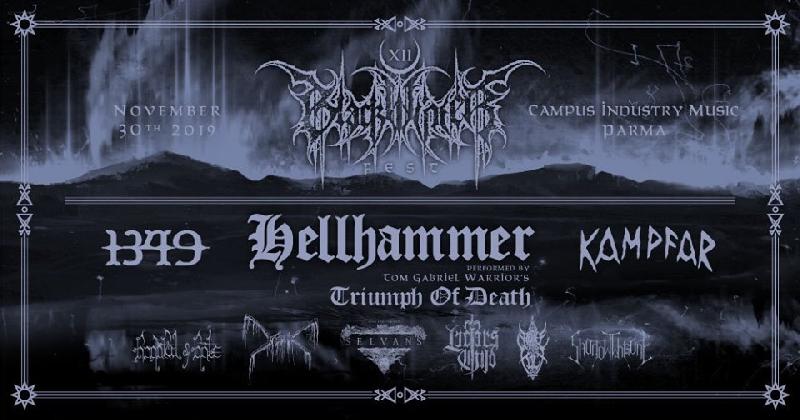 Nihil Prod e Daemon Star presentano la dodicesima edizione del BLACK WINTER FESTIVAL! ---english below---
Sabato 30 Novembre il Black Winter Festival torna a colpire con la sua dodicesima edizione! La location rimane, come per il precedente anno, il Campus Industry Music di Parma, locale sempre più apprezzato per produzioni Metal di alto livello.
- HELLHAMMER performed by Tom G. Warrior's Triumph Of Death
UNICA DATA ITALIANA!
http://www.facebook.com/HellhammerTriumphOfDeath
- 1349 (NOR) special headliner show!
http://www.facebook.com/1349official
- KAMPFAR (NOR) exclusive Italian show!
http://www.facebook.com/kampfarofficial/
- MORK (NOR) prima volta in Italia!
http://www.facebook.com/MORKOFFICIAL/
- LUCIFER'S CHILD (GRE) prima volta in Italia!
http://www.facebook.com/luciferschildmusic/
- SELVANS (ITA)
http://www.facebook.com/selvanspipe/
- HANDFUL OF HATE (ITA)
http://www.facebook.com/handfulofhateofficial
- DJEVELKULT (NOR) prima volta in Italia
http://www.facebook.com/Djevelkult/
- SHADOWTHRONE (ITA)
http://www.facebook.com/shadowthrone/
SABATO 30 NOVEMBRE
CAMPUS INDUSTRY MUSIC
Largo Simonini, 43124 Parma
Biglietto in cassa: 40 euro
Prevendita: 35 + d.p.
nessuna tessera necessaria
COME ACQUISTARE LE PREVENDITE:
Inviate 35 euro + 2 euro di commissioni per ogni biglietto che volete acquistare a questo indirizzo paypal: hiemss@hotmail.com
Nella transazione non dimenticatevi di indicare nome e cognome di OGNI possessore del biglietto e l'email a cui volete ricevere i PDF stampabili.
I biglietti sono nominali e NON RIMBORSABILI.
Avremo un'ampia area merch con cd, vinili e maglie, sarà offerto servizio navetta dalla stazione di Parma, e saranno inoltre disponibili hotel convenzionati a prezzi speciali.
SERVIZIO NAVETTA DALLA STAZIONE DI PARMA:
Per prenotare il servizio mandare email a nihil_management@live.it indicando numero di persone, orario indicativo di arrivo, e numero di cellulare di UNA persona del gruppo. Indicate anche se volete prenotare il ritorno dopo il festival. Il punto di ritrovo sarà di fonte al Novotel Parma Centro, a due passi dalla stazione centrale. Il costo del servizio sarà di 3 euro a tratta/persona. Accetteremo prenotazioni sino al 26 novembre!
HOTEL CONVENZIONATO:
Ecco il primo hotel convenzionato, sarà il CAMPUS HOTEL di Collecchio, raggiungibile in 15 minuti dal locale. Per prenotare usando la convenzione usare il codice di riferimento NIHIL MANAGEMENT! Prezzi: 51 euro camera singola, 66 euro camera doppia. Prezzi per due pernotti per chi volesse arrivare il venerdì: 99 due notti in singola, 124 due notti in doppia.
Per prenotare scrivete a info@hotelcampus.com oppure chiamate lo 0521 802680
https://www.hotelcampus.eu/
Infos: blackwinteritaly@gmail.com
https://facebook.com/blackwinterfestival
Inserita da:
Jerico
il 24.10.2019 - Letture:
836
Articoli Correlati
Altre News di MetalWave
Notizia Precedente
Notizia Successiva