FLESHGOD APOCALYPSE: parlano della line-up della band nel nuovo trailer dell'album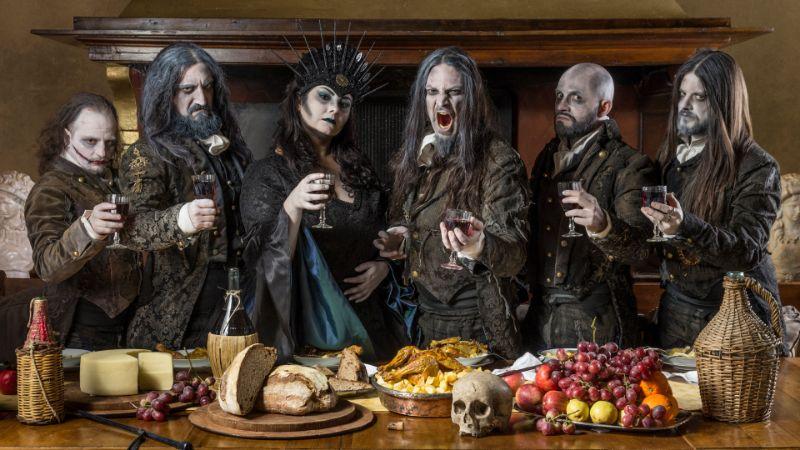 La band italiana orchestral-death metal FLESHGOD APOCALYPSE farà il suo ritorno trionfale quest'anno con l'uscita del quinto album "Veleno", il 24 maggio su Nuclear Blast Records.
Oggi, la band ha pubblicato il terzo trailer del disco, nel quale Francesco Paoli parla dell'attuale line-up, il ritorno alla voce per la prima volta dal 2009 e il ruolo di batterista nella band.
https://www.youtube.com/watch?v=PcttT-yKpc0
Pre-ordina "Veleno":
http://www.nuclearblast.com/fleshgodapocalypse-veleno
Pre-ordina l'album in digitale e ricevi subito 'Carnivorous Lamb' e 'Sugar' (solo amazon e iTunes)!
Ascolta entrambi i brani dalla NB Novelties Playlists:
http://nblast.de/SpotifyNovelties
/
http://nblast.de/AppleMusicNovelties
Altro su "Veleno":
'Sugar' OFFICIAL MUSIC VIDEO:
https://www.youtube.com/watch?v=Xmq3iyW02b8
'Carnivorous Lamb' OFFICIAL LYRIC VIDEO:
https://www.youtube.com/watch?v=3RMEoOl80SM
Trailer #1 - About The Song 'Sugar':
https://www.youtube.com/watch?v=2lXTqJLIuxI
Trailer #2 - About The »Veleno« Album Artwork:
https://www.youtube.com/watch?v=EXWn0yobSuY
"Veleno" segna il primo disco dei FLESHGOD APOCALYPSE in tre anni, dall'uscita del loro acclamato disco "King" (2016). La 'parte metal' di "Veleno" è stata registrata a Roma al Bloom Recording Studio e Kick Studio con il collaboratore di lunga data Marco Mastrobuono, mentre la 'parte orchestrale' - il cast corale - è stato registrato al Musica Teclas Studio di Perugia. I Fleshgod Apocalypse hanno poi portato il loro lavoro al nominato ai Grammy Jacob Hansen (VOLBEAT, THE BLACK DAHLIA MURDER, EPICA) agli Hansen Studios in Danimarca per il mix e il master. L'intera produzione di "Veleno" ha preso, secondo Paoli, circa tre mesi. L'artwork dell'album è stato creato da Travis Smith (AVENGED SEVENFOLD, OPETH, KATATONIA).
"Veleno" sarà disponibile nei seguenti formati:
- DIGI (CD+BLU-RAY) + PATCH
- DIGI (CD+BLU-RAY)
- JEWELCASE CD
- 2LP (BLACK, GREY)
- DIGITAL DELUXE (INCL. INSTRUMENTAL VERSION OF THE REGULAR ALBUM)
- DIGITAL
"Veleno"- Track Listing:
CD
01. Fury
02. Carnivorous Lamb
03. Sugar
04. The Praying Mantis' Strategy
05. Monnalisa
06. Worship and Forget
07. Absinthe
08. Pissing On The Score
09. The Day We'll Be Gone
10. Embrace The Oblivion
11. Veleno
Bonus Tracks (DIGI, DIGITAL & DIGITAL DELUXE)
12. Reise, Reise (RAMMSTEIN Cover)
13. The Forsaking (Nocturnal Version)
"An Evening in Perugia" (Bonus Blu-ray) - Track Listing:
01. Marche Royale
02. In Aeternum
03. Healing Through War
04. Cold As Perfection
05. Minotaur (The Wrath Of Poseidon)
06. Gravity
07. The Violation
08. Prologue
09. Epilogue
10. The Fool
11. The Egoism
12. Syphilis
13. The Forsaking
-----
FLESHGOD APOCALYPSE live:
01.06. I Trezzo sull'Adda (MI) - Metalitalia.com Festival
23.06. B Dessel - Graspop Metal Meeting
20.07. SK Revištske Podzamcie - Gothoom
25. - 27.07. P Vila Nova de Famalicão - Festival Laurus Nobilis Music Famalicão
---
Maggiori info:
http://www.fleshgodapocalypse.com
http://www.facebook.com/fleshgodapocalypse
https://twitter.com/fapocalypse
https://www.instagram.com/fleshgodofficial
http://www.nuclearblast.de/fleshgodapocalypse
Inserita da:
Jerico
il 10.04.2019 - Letture:
865
Articoli Correlati
Live Reports
Concerti
Spiacenti!

Non sono disponibili concerti correlati.
Altre News di MetalWave
Notizia Precedente
Notizia Successiva