COWBOYS FROM HELLERA METAL FEST #5: tutti i dettagli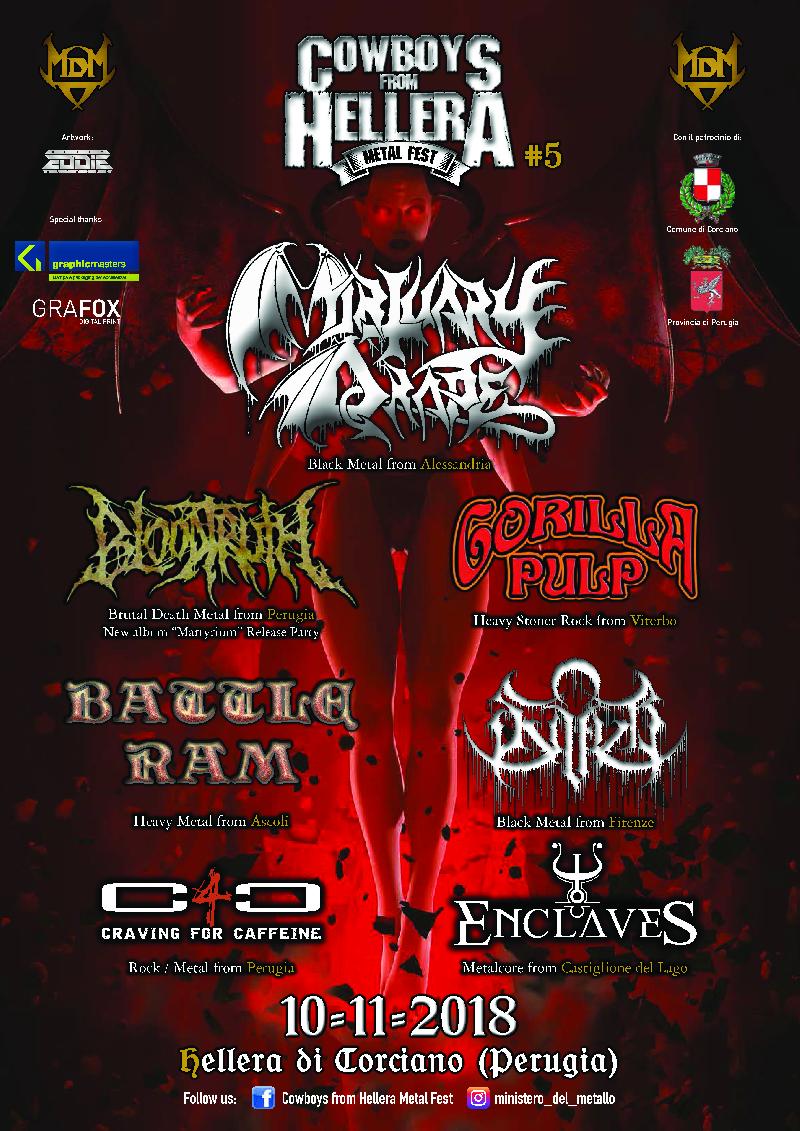 Metallari centroitaliani, l'autunno vi tedia? La pioggia e il freschetto incipiente frenano la vostra voglia di fare baldoria? I Vostri Affezionatissimi del Ministero del Metallo (
https://www.facebook.com/MinisteroMetallo/
) hanno la medicina per voi:
Il dieci novembre bruciate il divano, sfanculate Netflix, infilate chiodo& anfibi e portate il culo al Teatro Arca di (H)Ellera di Corciano (PG) (QUI:
https://goo.gl/maps/7ww8x8fXann
) per la Quinta Edizione del Cowboys From Hellera Metal Fest !!!
https://www.facebook.com/events/2345755615449660/
Dalle 18 in poi a soli 10 Euro (POCHI) e udite udite a SOLI 8 (OTTO, ancora meno!) Euro per i soci MDM guardate che macHELLo vi aspetta:
ABBIAMO LE BAND quindi DAJE!
:: MORTUARY DRAPE:: Occult Black Metal Legend from the Crypts of Alessandria
http://www.mortuary13drape.com
:: BLOODTRUTH::Enlightened Atheist Blast from Perugia (Brutal Death Metal – PG)
https://www.facebook.com/bloodtruthband/
:: GORILLA PULP::SEXY TUFO Rock dalla TUSCIA! (Heavy Stoner Rock – Viterbo)
https://gorillapulp.bandcamp.com/
:: BATTLE RAM::Heavy (HEAVY, quello istituzionale, vero, bello!) Metal from Ascoli Piceno
https://www.facebook.com/BATTLE-RAM-79151959083/
:: SVLFVR::Oniric Black Doom from Florence (Sciamanesimo da Firenze)
https://www.facebook.com/svlfvrdoom/
:: CRAVING 4 CAFFEINE:: Electro Metal Duo from PAAARUGIA
https://www.facebook.com/cravingforcaffeine/?ref=br_rs
:: ENCLAVES:: Melodic Riffs with Complex Patterns from the Big Castle of the Lake (Castiglion del lago-PG)
http://enclaves.bandcamp.com
ABBIAMO LE BIRRE quindi BEVI!
Il nostro mefistofelico Homebrewer MASTRO COTTINI propone due miscele alcoliche da strozzare giù per i vostri fetidi gargarozzi:
::Infernet (Strong Ale 9%)
::MinisteriAle (Hoppy Saison 4.5%)
::FustiFausti (spina a sorpresa!)
ABBIAMO I PANINI quindi MAGNA!
Gli artisti del Panino Spoletino della Prosciutteria del Corso (
https://www.facebook.com/ProsciutteriaDelCorso/
)
faranno del loro meglio per deliziare i vostri ingordi palati con tutto il casareccio possibile!
ABBIAMO I LETTI quindi BEVI!
Mica vorrai guidare, DEVI BERE: l'hotel convenzionato Silver Hotel Perugia (
http://www.silverhotelpg.com/
) sarà ben lieto di accogliere le vostre bare per la notte m/
ACCORRETE RUMOROSI
Inserita da:
Jerico
il 08.11.2018 - Letture:
1174
Articoli Correlati
Altre News di MetalWave
Notizia Precedente
Notizia Successiva