HOUR OF PENANCE: nuovo batterista e video playthrough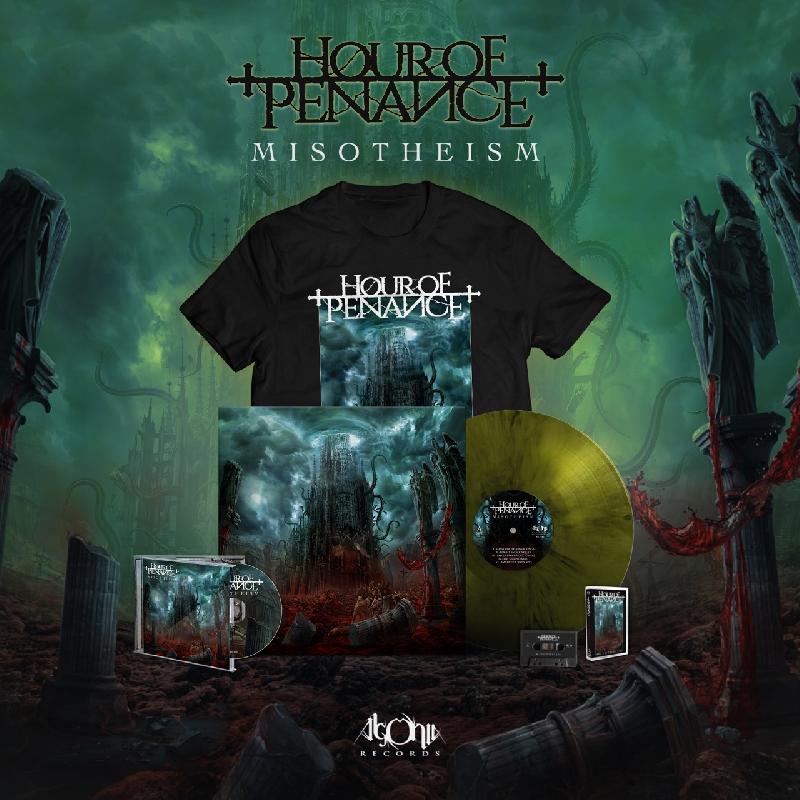 Giacomo Torti è intervenuto come nuovo batterista a tempo pieno per la potenza del death metal tecnico italiano, HOUR OF PENANCE. Guarda il suo video playthorugh per la canzone "Sovereign Nation", tratta dall'ultimo album della band, "Misotheism", che dovrebbe essere ripubblicato in CD, LP e MC il 27 gennaio via Agonia Records.
Torti, che ha registrato diversi album con Bloodtruth, spacciatori di techdeath con sede a Perugia, si è esibito dal vivo con gli HOUR OF PENANCE prima di entrare ufficialmente nella line-up. Questi spettacoli includevano il festival Hellfest del 2022 in Francia, tra gli altri. Torti ha sostituito Davide Billa (Antropofagus), con il quale HOUR OF PENANCE aveva pubblicato due album: "Cast the First Stone" del 2017 e "Misotheism" del 2019.
"Abbiamo un'altra grande notizia per voi ragazzi, incontrate il nostro nuovo batterista Giacomo Torti", commenta la band, dopo aver annunciato la ristampa di "Misotheism" il mese scorso. "Alcuni di voi potrebbero averlo già visto sul palco nei nostri ultimi spettacoli, e d'ora in poi sarà con noi a tempo pieno. Godetevi il suo playthrough di Sovereign Nation!"
"Misotheism" è una colonna sonora death metal nera come la pece e deliziosamente brutale per un universo che crolla, e la ristampa segna il terzo anniversario della sua discesa iniziale. Il 27 gennaio 2023 vedrà il ritorno dell'album su CD jewelcase, il debutto dell'album su vinile colorato e, per la prima volta, la sua uscita su nastro limitato. L'album è stato lavorato in tre diversi studi (Bloom Recording e Kick Recording in Italia e Hertz in Polonia). L'artwork di copertina è stato creato da Gyula Havancsàk (Accept, Annihilator, Ensiferum).
"Misotheism" è il primo album degli HOUR OF PENANCE per Agonia Records e l'ottavo fino ad oggi. La band ha la reputazione di un venerato live act, con tour in Nord America, Europa e Australia (in compagnia di Cannibal Corpse, Behemoth, Devildriver e Misery Index). Quest'anno la band ha suonato in diversi festival, incluso il già citato Hellfest, così come il Lions Metal in Francia.
Tracklisting:
1. Mass Crucifixion Of Kings
2. Blight And Conquer
3. Fallen From Ivory Towers
4. The Second Babel
5. Lamb Of The Seven Sins
6. Flames Of Merciless Gods
7. Sovereign Nation
8. Dura Lex Sed Lex
9. Iudex
10. Occult Den Of Snakes
Line-up:
Giulio Moschini - guitars
Paolo Pieri - guitars and vocals
Marco Mastrobuono - bass
Giacomo Torti - drums
Pre-order the re-issue of "Misotheism":
https://agoniarecords.com/hourofpenance
HOUR OF PENANCE on-line:
Website:
http://www.hourofpenance.net/
Facebook:
https://www.facebook.com/hourofpenance
Twitter:
https://twitter.com/HourofPenance
Instagram:
http://www.instagram.com/hourofpenanceofficial
Spotify:
https://sptfy.com/20Wh
Agonia Records:
Website:
http://agoniarecords.com
Webshop:
http://tinyurl.com/agoniashop
Facebook:
https://facebook.com/agoniarecords
Twitter:
https://twitter.com/agoniarecords
SoundCloud:
https://soundcloud.com/agoniarecords
Bandcamp:
https://agoniarecords.bandcamp.com
Instagram:
https://instagram.com/agoniarecordsofficial
YouTube:
http://youtube.com/AgoniaRec
Inserita da:
Jerico
il 07.12.2022 - Letture:
177
Articoli Correlati
Interviste
Spiacenti!

Non sono disponibili Interviste correlate.
Live Reports
Spiacenti!

Non sono disponibili Live Reports correlati.
Concerti
Spiacenti!

Non sono disponibili concerti correlati.
Altre News di MetalWave
Notizia Precedente
Notizia Successiva