Napalm Death + Suffocation + WArbringer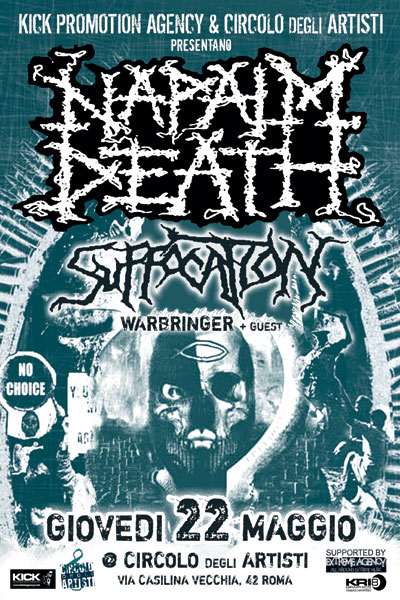 Data dell'Evento:
22.05.2008
Band:
Napalm Death
Suffocation
WArbringer
Luogo dell'Evento:
Circolo Degli Artisti
Città:
Roma
Promoter:
Kick Agency

Autore:
Haunted

»
Visualizzazioni:
2469
Live Report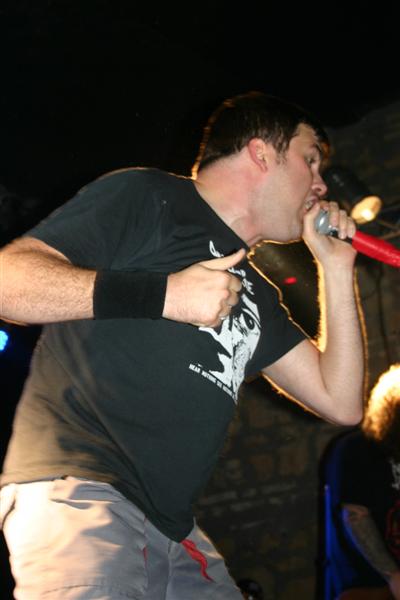 Calda giornata di Maggio per questa data capitolina dei Napalm Death, che non venivano a Roma da qualche anno ormai, ma sembra che il publico della capitale non li abbia dimenticati...
Iniziamo dai Warbringer, gruppo di apertura di questo trio infernale che per piu di 3 ore ha fatto saltare le poche centinaia di persone che coprno la capienza del circolo. I Warbringer nascono in California appena 4 anni fa, nel 2004 e si sono già dati parecchio da fare dato che sono stati presi dopo poco dal colosso Century Media che non fa certo sconti a nessuno, ma la fiducia nei giovani ragazzi americani è sicuramente ben riposta in quanto sono stati devastanti....
Con un disco all'attivo uscito fresco fresco in Europa il 25 Febbraio, "War Without End" è il primo Full Lenght del gruppo capitanato da John Kevill da cui sono state prese la grna parte dei pezzi proposti a Roma, "Total War", "Systematic Genocide", "Hell On Earth" sono alune delle tracce che compongono questo capolavoro di Thrash Metal puro e violento mirabilmente riproposto dal vivo. Grande risposta del publico, molti dei quali non conoscevano la band in questione, di certo una bella sorpesa, e sicuramente una bella soddisfazione per la band aver suonato di spalal a certi colossi del metal estremo....

C'è tempo di girare per gli stand del merchandise, prendersi una birra e chiacchierare con gli amici prima che i Suffocation salgano sul palco! Il gruppo Newyorkese capitanato ormai da 18 anni da quel folle di Frank Mullen non ci mette molto a trascinare il publico in un mosh terribile la scaletta segue con pezzi come "Catatonia", "Effigy Of The Forgotten" e "Thrones Of Blood", publico contento nonostante molti richiedessero pezzi come "Souls To Deny" ma vabeh per quello potetevi leggere il vecchio live report del 2004 all'alpheus :) . A parere di molti sono stati il miglior gruppo della serata superando anceh i più noti Napalm Death che comunque non hanno niente da invidiare ai colleghi americani... e vediamo perchè...

Napalm Death, beh personalmente è la terza volta che ho il piacere di vedere questa band inglese dal vivo (anche i suffocation stessa cosa..) e devo dire che non sono mai stato deluso. 27 anni all'attivo e tanta esperienza, il gruppo di Birmingham (Inghilterra) ha scatenato l'inferno... Si inizia con "Sink Fast Let Go" 25 canzoni in un po più di un ora di live... "Suffer The Children", "The Code Is Red" in duetto con Mullen dei Suffocation (memorabile!!), e ancora "Scum", "You Suffer" (la canzone più corta della storia 1 sec.) per chiudere con la celebre cover dei Dead Kennedys "Nazi Punks Fuck Off" e infine l'acclamatissima " Siege Of Power", indubbiamente grandissima prova di tecnica e ignoranza per i maestri del grind core, ma quanto sarebbe stato più bello se ci fosse stato ancora Jesse Pintado.. (R.I.P.) i ragazzi si danno comunque da fare e a 40 anni suonati si agitano sul palco come dei ragazzini, soprattutto Mark "Barney" Greenway, leader indiscusso e vocalist della band che per fargli le foto ho pensato piu volte di fargli lo sgambetto :) ma quello lo vedrete nelle foto qui sotto come sempre! Alla prossima che da parte mia sarà dopo agosto per raccontarvi della mia avventura al 4° anno consecutivo al Wacken Open Air! Rimanete sintonizzati con Metalwave per altri report e news!
Immagini della Serata
Recensione di
Haunted
Articolo letto
2469
volte.
Articoli Correlati