Tenebra «...To Relieve Your Sadness» (2004)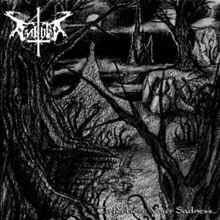 Autore:
Lord Lucyfer

»
Recensione Pubblicata il:
--
Visualizzazioni:
2555
Band:
Tenebra



Titolo:
...To Relieve Your Sadness
Nazione:
Italia
Formazione:
- Lord Lemory - Electric and Acoustic Guitars, Bass, Drums & All Vocals
- Count Leshrac Belmont - Keyboards
Genere:
Durata:
24' 33"
Formato:
Data di Uscita:
2004
Etichetta:
Distribuzione:
---
Agenzia di Promozione:
---
Recensione
Nuovo capitolo in casa Tenebra, side project del chitarrista degli Aequinoctium, Lord Lemory.
Molteplici e di rilievo sono le differenze fra questo "...To Relieve Your Sadness" ed il precedente "Blinded By Tenebra". Innanzitutto, mentre il primo fu registrato interamente a casa di Lemory, in questo caso il disco è stato registrato nei Cieffe Studios di Napoli, guadagnandone così in produzione. Seconda novità è il fatto che Lemory non è più solo nel progetto, ma è accompagnato dal lavoro tastieristico di Count Leshrac Belmont, anch'egli proveniente dagli Aequinoctium.
Ma le differenze non finiscono qui!!! L'impronta dei Tenebra è marcatamente più vicina ad un Black funereo e doomeggiante, anche se non disprezza momenti più acustici, come la splendida strumentale "Ode", che ha comunque un sapore malinconico. Se dovessi accostare questo lavoro a gruppi più famosi, direi che non posso non azzardare il confronto con Burzum e Forgotten Tomb: l'uno per il cantato sofferente, disperato, ma allo stesso tempo rabbiosissimo, l'altro per l'incedere lento dei pezzi. "Suicide Dreamer" è l'esempio perfetto di questo connubio: ascoltare per credere!
Insomma direi che questa inversione di rotta stilistica, ossia da un Black veloce e furente à la Nargaroth, a questo Doom/Black stile Burzum/FT, ci propone un artista in piena maturazione, capace di fornirci un EP di qualità nettamente maggiore rispetto al lavoro precedente. L'unica pecca, forse, sta nelle parti di batteria: Lemory non è proprio un batterista, per cui i suoni risultano alquanto elementari.
Nonostante ciò, mi sento comunque di promuovere a pieni voti questo "...To Relieve Your Sadness", ed aspetto un nuovo capitolo dei Tenebra, magari su lunga distanza, visto l'inizio dela collaborazione, postuma a questo lavoro, con la Nocturnal Brights, di proprietà del vocalist dei Sigma Draconis, Valpurgis.
Track by Track
Lost (Intro)

60

The Embrace

70

Ode

85

Suicide Dreamer

70

Self Destruction

75

Rebirth (Outro)

60
Giudizio Confezione
Qualità Audio:

70

Qualità Artwork:

70

Originalità:

70

Tecnica:

75
Recensione di
Lord Lucyfer

»
pubblicata il --. Articolo letto
2555
volte.
Articoli Correlati