Kaledon «Antillius: The King Of The Light» (2014)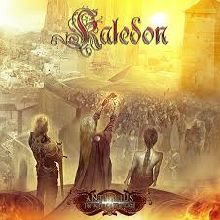 Autore:
reira

»
Recensione Pubblicata il:
07.11.2014
Visualizzazioni:
1315
Band:
Kaledon



Titolo:
Antillius: The King Of The Light
Nazione:
Italia
Formazione:
Alex:lead guitar, backing vocals
Marco: vocals
Tommy: rhythm guitars
Paolo C: Keyboards
Paolo L.: bass, backing vocals
Massimiliano: drums
Genere:
Power / Heavy Metal
Durata:
1h 3' 25"
Formato:
CD
Recensione
I Kaledon deliziano ancora una volta le nostre orecchie con questo nuovo album. La loro musica è veloce, decisa, mai troppo aggressiva: fondamentalmente, basta ascoltarli cinque minuti per avere la carica. Nonostante i cambi di line up che sono avvenuti nel tempo, la loro musica rimane ben studiata e rispecchia il talento di ognuno dei componenti. In Antillius trovate molta energia e fantasia, ma anche dei pezzi veramente interessanti. Mi focalizzo su tre in particolare: Elisabeth, My will e The fallen king. La prima vede la collaborazione della talentuosa Angela Di Vincenzo (Secret Rule), veramente piacevole; le altre due tracce hanno tutte le potenzialità per far scatenare le folle durante i live. Tutte le canzoni sono comunque collegate tra loro da vari effetti sonori che, ovviamente, richiamano la storia che sta dietro al lavoro della band e li ha da sempre caratterizzati.
Per concludere: i Kaledon sono una band italiana che stimo perché dimostra dove impegno e dedizione ti possono portare, quindi non fatevi mancare l'ascolto di questo cd.
Track by Track
In Aeternum

70

The calm before the storm

70

Friends will be enemies

70

Elisabeth

80

New glory for the kingdom

65

The party

70

The evil conquest

75

Light after darkness

70

The angry vengeance

70

My will

80

The glorious vengeance

70

The fallen king

80
Giudizio Confezione
Qualità Audio:

80

Qualità Artwork:

75

Originalità:

75

Tecnica:

80
Recensione di
reira

»
pubblicata il 07.11.2014. Articolo letto
1315
volte.
Articoli Correlati
Interviste
Live Reports
Spiacenti!

Non sono disponibili Live Reports correlati.
Concerti
Spiacenti!

Non sono disponibili concerti correlati.