Rhapsody of Fire «Dark Wings Of Steel» (2013)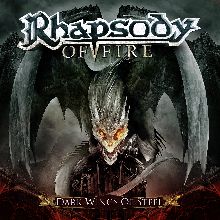 Autore:
Led

»
Recensione Pubblicata il:
07.11.2013
Visualizzazioni:
2943
Band:
Rhapsody of Fire




Titolo:
Dark Wings Of Steel
Nazione:
Italia
Formazione:
Fabio Lione (vocals)
Alex Staropoli (keyboards)
Roby De Micheli (guitars) Oliver Holzwarth (bass)
Alex Holzwarth (drums)
Genere:
Epic Symphonic Metal
Durata:
58' 14"
Formato:
CD
Recensione
Attivi dalla metà degli anni novanta i "Rhapsody of Fire" presentano ai loro fans la nuova fatica discografica dal titolo "Dark Wings Of Steel". Un bellissimo cd Metalcon venaure Sinfoniche. Si parte con "Vis Divina" un'intro d'atmosfera molto lirica, per passare poi a "Rising From Tragic Flames" dove la sezione ritmica con la sua doppia cassa fà da protagonista a questo brano della durata di più di sei minuti. Buona anche la scelta di alternare la voce principale con un coro di voci in modalità lirica. L'uso di una sezione di tastiere che dà un contributo al progetto con tappeti ben strutturati fà si che ci sia una componente leggera a rendere il lavoro meno pesante possibile; è il caso di "Angel Of Light", una ballata lenta dove emergere la voce chiara di "Fabio Lione". Scorrendo "Dark WIngs of Stel", si arriva a metà del lavoro e mi soffermo su "Silver Lake Of Tears" dove per struttura, tecnica, e riff non posso che richiamare alla mente bands di culto come Helloween, Stryper,e vagamente Manowar. come non poteva mancare il brano strappalacrime!! arriviamo infatti a "Custode Di Pace" cantato in italiano e che dunque, personalmente boccio in blocco.
Nel complesso, "Custode Di Pace" esclusa, è un buon cd ma non mi stancherò mai di dire che bisognerebbe fare più attenzione alla durata dei brani, che se troppo lunga rischia di rendere il lavoro pesante anche se piacevole all'ascolto.
Track by Track
Vis Divina

55

Rising From Tragic Flames

70

Angel Of Light

70

Tears Of Pain

70

Fly To Crystal Skies

65

My Sacrifice

65

Silver Lake Of Tears

75

Custode Di Pace

60

A Tale Of Magic

65

Dark Wings Of Steel

70

Sad Mystic Moon

75
Giudizio Confezione
Qualità Audio:

70

Qualità Artwork:

75

Originalità:

70

Tecnica:

75
Recensione di
Led

»
pubblicata il 07.11.2013. Articolo letto
2943
volte.
Articoli Correlati
Live Reports
Spiacenti!

Non sono disponibili Live Reports correlati.