Rhapsody of Fire «Live - From Chaos To Eternity» (2013)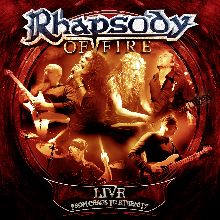 Autore:
Led

»
Recensione Pubblicata il:
08.05.2013
Visualizzazioni:
1555
Band:
Rhapsody of Fire




Titolo:
Live - From Chaos To Eternity
Nazione:
Italia
Formazione:
Fabio Lione - Vocals
Alex Staropoli - Keyboards
Tom Hess - Guitars
Roberto De Micheli - Guitars
Oliver Holzwarth - Bass
Alex Holzwarth - Drums
Genere:
Symphonic Power Metal
Durata:
1h 43' 21"
Formato:
CD
Recensione
Discograficamente parlando i "Rhapsody", sono attivi sul mercato dal 1997. La band italiana che propone un genere Power Metal con influenze sinfoniche, grazie anche al buon lavoro fatto dalle tastiere e dai campionamenti, dopo otto lavori giungono a questo cd dal titolo "From Chaos to Eternity"come a voler dare un tributo alle loro performance live, infatti quello che andrò a recensire è un cd live disponibile in versione Digipack e in pochissime copie Vinile. Come nelle quasi totalità dei live di questo genere, si parte con un'intro molto d'atmosfera e d'impatto per dar modo ai fans accorsi all'evento di dare il giusto accoglimento alla band. Due cd di dodici tracce l'uno, per un totale di ventiquattro tracce. Il sound molto lineare fluido e potente ricorda gruppi storici come i Manowar, Nightwish ( per la parte "sinfonica" ). Nel complesso il cd suona bene anche in versione live infatti pare che la band abbia deciso di non ritoccare troppo i suoni live giusto per rimanere più fedeli possibile al tributo dato per la loro attività on stage. Tecnicamente, e questo è un buon punto a favore della band non si nota la differenza tra performance live e performance studio. Molto interessante la ballata numero cinque "I Belong To The Stars" dove si fà un uso particolare delle tastiere e in generale buono anche l'uso sapientemente dosato dei cori. La settimana traccia "The Dark Secret" ricorda per la intro quella di "The Number of the Beast" dall'album "Life After Death" degli "Iron Maiden" anche se in questo brano si entra nel vivo della canzone solo dopo poco più di circa due minuti senza un'esplosione vera e propria.Ascoltando questo cd posso dire che la voce di "Fabio Lione" mi ricorda per molti versi quella di "Bruce Dickinson" e la cosa risalta ancora di più all'orecchio ascoltando "Land of Immortals" dove si dà spazio anche ad una sezione di archi e clavicenbalo suonati credo dalle tastiere e da una performance di tutto rispetto per la sezione del basso con un mini assolo che dà testimonianza della dote tecnica del musicista,dote tecnica che posiamo riapprezzare nell'intro di "Aeons Of Raging Darkness", senza nulla togliere alla precisione e alla tecnica del resto della band specie per la sezione ritmica checi omaggia di un assolo di batteria di due minuti e venti e che per l'occasione la traccia è stata appunto chiamata Drum Solo. Child Smith, batterista dei Red Hot Chili Peppers disse in merito agli assoli di batteria che sono seghe mentali dei batteristi ed ecco perchè lui non ama molto questo genere di performance nei live e secondo me è giusto, la vedo un pò come una cosa pacchiana. Ma ognuno sul palco è padrone di fare quello che vuole.
"The March Of The Swordmaster" apre le danze del secondo cd. Un ballata che rievoca feste di corte nei castelli feudali, prontamente interrotta dalla potenza delle chitarre che irrompono e danno corpo al brano. Dopo la seconda traccia "Dawn Of Victory", è il turno della terza song "Toccata On Bass" e indovinate un pò ? altra sega mentale nelle file del bassista che ricorda quella fatta da Cliff Burton in "Anesthesia".Fortunatamente, con "The Village Of Dwarves" si ritorna nel vivo del concerto con una ballata power contornata dall'uso di flauti, cornamuse, e una voce candida come intro. Non starò certo a recensire ogni singolo brano , ma quello che posso dire è che a parte le due seghe mentali, questo doppio cd è un'ulteriore testimonianza di quello che le band italiane possono fare di buono insieme a Extrema, Lacuna Coil,e via dicendo. Bravi tenete alta la bandiera italiana.


Track by Track
Dark Mystic Vision

70

Ad Infinitum

70

From Chaos To Eternity

75

Triumph Or Agony

75

I Belong To The Stars

70

The Dark Secret

65

Unholy Warcry

70

Lost In Cold Dreams

70

Land Of Immortals

70

Aeons Of Raging Darkness

65

Dark Reign Of Fire

70

Drum Solo

60

The March Of The Swordmaster

70

Dawn Of Victory

65

Toccata On Bass

60

The Village Of Dwarves

70

The Magic Of The Wizard's Dream

70

Holy Thunderforce

70

Reign Of Terror

70

Knightrider Of Doom

65

Epicus Furor

75

Emerald Sword

70

Erian's Lost Secrets

70

The Slendour Of Angels Glory

70
Giudizio Confezione
Qualità Audio:

70

Qualità Artwork:

65

Originalità:

65

Tecnica:

75
Recensione di
Led

»
pubblicata il 08.05.2013. Articolo letto
1555
volte.
Articoli Correlati
Live Reports
Spiacenti!

Non sono disponibili Live Reports correlati.