Martyr Lucifer «Farewell To Graveland» (2011)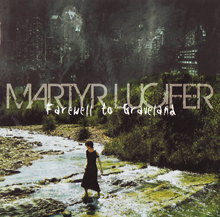 Autore:
June

»
Recensione Pubblicata il:
--
Visualizzazioni:
2526
Band:
Martyr Lucifer




Titolo:
Farewell To Graveland
Nazione:
Italia
Formazione:
Martyr Lucifer: Vocals, synth, programming
Arke: Guitars
Evgeniy "Vrolok" Antonenko: 5-string bass guitar
Bless: Piano, keyboards
Adrian Erlandsson: Drums
Grom: Drums
Leìt: Additional vocals, photography, digital manipulation
Genere:
Durata:
56' 11"
Formato:
CD
Data di Uscita:
2011
Etichetta:
Distribuzione:
---
Agenzia di Promozione:
---
Recensione
"Farewell To Graveland" è il nuovo progetto di Martyr Lucifer, personaggio dal curriculum metallico invidiabile, passato attraverso importanti collaborazioni con esponenti del metal internazionale (per i dettagli biografici vi rimando alla sua pagina su Facebook).
Questo album si allontana dallo stile più estremo a cui Martyr ci aveva abituato in formazioni di genere black o death metal, percorrendo una strada più vicina alla darkwave; ma è solo una linea di tendenza, dato che l'intero lavoro suona diverso ed ispirato in ogni suo brano e non abbandona mai una dimensione metallica fatta di ritmiche imperiose e precise e chitarre sature ed infuocate.
Se le prime tre tracce dopo la pomposa introduzione rincorrono le sonorità dei Sisters Of Mercy più decisi, (sia nelle ritmiche che nell'impostazione vocale), non mancano altresì aperture più moderne e diversificate, come la ballad "Noctua Munda", che offre delle bizzarre aperture elettriche che oserei definire grunge(!), più un finale acido ed elettronico.
"Onironauta" è un brano più furioso, pressoché interamente strumentale, con una feroce coda di violenza e blastbeat, contrastata dalla successiva ballata folk, "L'Albero Ed Io", registrata come se uscisse da un disco degli anni 40.
Lungo il resto dell'album si trovano ancora suoni più tipicamente nordeuropei anni 90, come quelli dei Tiamat, o dei Sundown, per citarne un paio; vale a dire ritornelli orecchiabili e ben definiti, muro di chitarre e tastiere in primo piano, ricchezza di suoni sintetico-crepuscolari.
Il brano più ambizioso è sicuramente "The Horseride", della lunghezza di oltre dieci minuti; comincia ispirato ad un gothic rock molto energico, ma presto si abbandona ad uno scenario anni 70 che richiama a grande voce i Pink Floyd più romantici (non i più psichedelici), soprattutto per via di un assolo particolarmente in linea con un album quale "The Dark Side Of The Moon".
Quello che risulta lapalissiano dall'ascolto è che Martyr Lucifer punta in alto: ha pubblicato un lavoro sicuramente denso, ma che chiama in causa le sonorità più in voga degli ultimi tempi, il revival anni 80, le morbidezze progressive dei '70; quindi indirettamente instaura un legame con gli ascoltatori di gruppi come Anathema e Opeth, che ad oggi riscuotono molti consensi. Senza dimenticare la presenza di un musicista del calibro di Adrian Erlandsson in veste di session (più componenti degli Ancient). Sarebbe quindi facile parlare di mossa commerciale, ma risulta davvero difficile criticare materiale di cotanta professionalità e in ogni dettaglio (composizioni, registrazione, grafiche) con il pregio di non essere solo un esercizio di stile, ma di riuscire a comunicare con momenti evocativi, intriganti e, come dicevo all'inizio, ispirati.
Perciò il mio consiglio è questo: se quello che avete letto in questa recensione è di vostro interesse, un ascolto a questo disco dovreste darlo, anche distratto, perché ha tutte le carte in regola per convincervi da subito; successivamente potrete approfondire e coglierne le molteplici sfumature. Un lavoro oltremodo meritevole.
Track by Track
Janus

75

Farewell to Graveland

75

Turmoil

75

From Under The Ground

75

Noctua Munda

80

Onironauta

80

L'Albero Ed Io

70

The Dustflower

80

They Said With Time All Wounds Will Heal

75

The Horseride

80

Waiting For The Dawn

75
Giudizio Confezione
Qualità Audio:

85

Qualità Artwork:

80

Originalità:

70

Tecnica:

80
Recensione di
June

»
pubblicata il --. Articolo letto
2526
volte.
Articoli Correlati