Caelestis «When The Moon Dreams» (2011)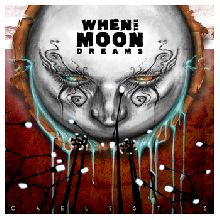 Autore:
susie ramone

»
Recensione Pubblicata il:
--
Visualizzazioni:
1753
Band:
Caelestis







Titolo:
When The Moon Dreams
Nazione:
Italia
Formazione:
Cataldo Cappiello: Chitarra, Voce, Programmazione
Genere:
Durata:
45' 25"
Formato:
EP
Data di Uscita:
2011
Etichetta:
Distribuzione:
---
Agenzia di Promozione:
---
Recensione
Melodie di pianoforte limpide, ricercate, ipnotiche costituiscono il tessuto sonoro per la sperimentazione math rock di Caelestis. Che sfocia in inserti ritmici cangianti, nei synth originali e decadenti e nei delay tipicamente post-metal. E' il "diario di viaggio" in musica creato da Caelestis appunto, nome d'arte per Cataldo Cappiello. Artista che ha intrapreso, partendo dall'ambient dei due album precedenti, un percorso sperimentale solista verso gli sfaccettati mondi del post black metal con l'EP "When the Moon Dreams". Attraverso una poetica musicale che immerge il fruitore in dimensioni oniriche, Caelestius esprime delicate, malinconiche e celestiali dimensioni di luce (e ombra) oltre che il mistero degli universi paralleli. "When the moon dreams" inizia con l'omonima sinfonia strutturata su una melodia pulita di pianoforte su cui si innesta un avvolgente black metal elettronico e post-ambient. Attraverso spirali di synth, progressivi e continuamente mutevoli, che si consumano in un effetto assordante alla fine del lungo brano. Ancora più sofisticata risulta "Artificial Ghost (Part I)", una song più post-ambient in cui è possibile percepire l' embrione industrial del futuro progetto musicale che il napoletano Caelstis sta preparando per il 2012. Evanescente è l'atmosfera creata in questo brano con inserti leggeri di synth. Incisivi e graffianti risultano gli effetti creati dall'uso originale dei piatti di batteria, sempre sposati all'uso classico del pianoforte, lo strumento-base adoperato da Caelestis. Così come in "Artificial Ghost (Part II)", melodia sperimentale in cui domina la disarmonia-armonica dei synth e la varietà della ritmica. Qui i tocchi delicati al piano si fondono, in una sintesi straordinaria, con distorsioni - sempre di pianoforte - così peculiari da sembrare chitarre elettriche. Il delay del piano, così come la varietà delle sperimentazioni ritmiche, sono preponeranti nel quarto brano "Cold Parenthesis". Che conduce alla splendida "Afterrain": una sinfonia bella, ispirata, celestiale, che esprime il risveglio e la magnificenza della natura descrivendo orizzonti di melancholic metal. Si passa così all'onirica e suggestiva State of Mind, basata su scale classiche di pianoforte con le immancabili sperimentazioni ritmiche, per poi arrivare a "Ice Tears". Anche questa song intensa, particolarmente malinconica e decadente. Solo synth, senza batteria. Chiude - in grande stile - l'album di Caelestius "Open Parenthesis", melodia celestiale che sembra raccontare in musica, nella sua limpida semplicità, il progetto aperto dell'esistenza.
Track by Track
When the Moon Dreams

75

Artificial Ghost (Part I)

80

Artificial Ghost (Part II)

85

Cold Parenthesis

75

Afterrain

90

State of Mind

90

Ice Tears

85

Open Parenthesis

85
Giudizio Confezione
Qualità Audio:

90

Qualità Artwork:

75

Originalità:

90

Tecnica:

90
Recensione di
susie ramone

»
pubblicata il --. Articolo letto
1753
volte.
Articoli Correlati