The Last Breath of Life «Stay Negative» (2011)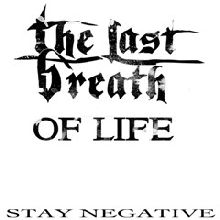 Autore:
Zoro

»
Recensione Pubblicata il:
--
Visualizzazioni:
917
Band:
The Last Breath of Life



Titolo:
Stay Negative
Nazione:
Italia
Formazione:
Daniele 'denno' Tomasi: Bass Guitar
Manuel 'moove' Castellani: Drums
Mattia 'maina' Maini: Rhytm Guitar
Mattia 'mataia' Corni: Lead Guitar
Emanuele 'manu' Medici: Vocals
Genere:
Durata:
11' 0"
Formato:
Demo MC
Data di Uscita:
2011
Etichetta:
Distribuzione:
---
Agenzia di Promozione:
---
Recensione
Vale la pena di ascoltare un disco di metalcore nel 2011? Diciamocelo, questo genere si è esaurito, sfociando nelle contaminazioni più becere, ed è diventato probabilmente la cosa più adolescenziale e superficiale di cui la scena metal debba vergognarsi. Tant'è che la maggior parte delle band che lo suonano ormai quasi si imbarazzano nel dichiarare la loro appartenenza al genere, preferendo autoclassificarsi con termini sfuggenti come "thrashcore", "modern metal" o "hardcore-thrash metal". In quest'ultima categoria rientrano i modenesi The last Breath of Life, di cui mi trovo un demo tra le mani. Bene, premettendo che io di queste stronzate sulla divisione certosina in sottogeneri me ne sono sempre fregato, non posso che dichiararmi entusiasta di questo Stay Negative. Abbiamo a che fare con un attitudine Hardcore moderno a la Hatebreed, quello violento come un piede di porco nel momento in cui vi frantuma gli incisivi, suonato con grande tecnica e impreziosito da riff melodici di immediata presa. Parlo di melodia nella migliore delle accezioni: non sentirete nessuno di quei ritornelli in clean vocals che piacciono tanto ai ragazzi col ciuffo, solo buone urla, calde e cattive, su un tappeto di ottima melodia a la death svedese.
Il tutto è poi valorizzato da un ottimo gusto nella progressione delle canzoni, sempre varie nel loro svolgersi. Melodia, groove spaccaossa e ritmi trascinanti si alternano e si intersecano in maniera naturale e dannatamente efficace. Mi ha fatto molto piacere inoltre che il lavoro sia scevro da quella negatività esistenziale che affligge la maggior parte dell'hardcore moderno, che non è una scelta artistica sempre da biasimare, ma sentire un po' di positività (nonostante il titolo del demo) nel genere male non fa.
Volendo cercare difetti, devo ammettere che il gruppo suona pentagrammi non suoi, la sensazione di già sentito c'è, il che non è un difetto poi così terribile in un prodotto hardcore, ma l'ascoltatore smaliziato avrà ben più di un deja-vu. Un ultimo plauso alla produzione, fatico a credere di trovarmi davanti ad un demo. In sintesi un gruppo dotato di grande consapevolezza della sua musica, con due palle così e dal quale in futuro mi aspetto grandi cose.
Track by Track
Smoke Like An Assassin

80

The Wound

75

The Last Breath of Life

75
Giudizio Confezione
Qualità Audio:

85

Qualità Artwork:

70

Originalità:

70

Tecnica:

80
Recensione di
Zoro

»
pubblicata il --. Articolo letto
917
volte.
Articoli Correlati