Caronte «Ghost Owl» (2011)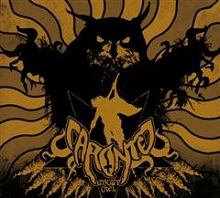 Autore:
June

»
Recensione Pubblicata il:
--
Visualizzazioni:
2003
Band:
Caronte


Titolo:
Ghost Owl
Nazione:
Italia
Formazione:
Dorian Bones - vocals
Henry Bones - bass
Tony Bones - guitar
Mike De Chirico - drums
Genere:
Durata:
20' 49"
Formato:
CD
Data di Uscita:
2011
Etichetta:
Distribuzione:
---
Agenzia di Promozione:
---
Recensione
Con i Caronte andiamo così tanto indietro nel corso della musica rock da risultare persino di gran moda. Perché, dite? Ma è ovvio: le sonorità vintage rock proposte dal quartetto di Parma sono proprio all'ultimo grido, lo testimoniano le numerose realtà nate e rapidamente incensate di recente, vedi ad esempio i Ghost, o gli altrettanti progetti che hanno virato verso sonorità più fumose, come ad esempio Furze, che prima faceva black metal. Naturalmente non è mia intenzione criticare la scelta di nessuno, tanto meno voglio suggerire l'idea che in questo album si suoni per emulazione degli ultimi arrivati; anche perché questo disco è davvero piacevole e la band che si cimenta è particolarmente ispirata e capace. Il suono è di quelli ruvidi e frastagliati, che ricercano il calore della realtà. Fuzz tremendamente elettrico, batteria che lotta per farsi sentire a suon di mazzate, riverberi inquietanti e un cantante incredibilmente evocativo. Su un filo argomentativo srotolato attraverso temi occulti ed esoterici, si cerca di attizzare il fuoco nero che lega decenni di musica: dagli imprescindibili Black Sabbath ai più moderni, Cough; ad esempio nell'ultima traccia "Trice Of Dream", dove l'atmosfera è più cupa e le distorsioni più parossistiche. Rimane un vero punto di forza l'espressiva voce di Dorian Bones, le cui inflessioni alla Danzig non lo fanno sembrare solo un emulo, ma anzi, delineano un cantato ricco di sfumature e pieno di potenza. Per ora solo tre lunghe tracce, tutte sopra i sei minuti, cariche, compatte e composte con grande competenza, che fanno dei Caronte una piccola promessa per il futuro, sempre che la tendenza continui a restar viva, sorretta solo dalla polvere esalata dagli amplificatori d'annata. Doveroso citare le grafiche dell'Ep, di una bellezza arcana e contemporaneamente omaggio al periodo psichedelico: un po' come la musica che vi si può trovare dentro.
Track by Track
Ghost Owl

75

Black Gold

75

Trice Of Drema

75
Giudizio Confezione
Qualità Audio:

80

Qualità Artwork:

90

Originalità:

65

Tecnica:

70
Recensione di
June

»
pubblicata il --. Articolo letto
2003
volte.
Articoli Correlati