Hollywood Groupies «Punched By Millions Hit By None» (2011)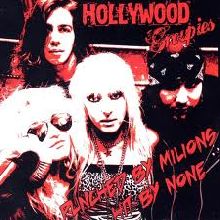 Autore:
Monikuez

»
Recensione Pubblicata il:
--
Visualizzazioni:
2717
Band:
Hollywood Groupies




Titolo:
Punched By Millions Hit By None
Nazione:
Italia
Formazione:
Foxy Deville - vocals
Kelly Mccoy - guitars
Ace From Space - drums
Condor - bass
Genere:
Durata:
40' 0"
Formato:
CD
Data di Uscita:
2011
Etichetta:
Distribuzione:
---
Agenzia di Promozione:
---
Recensione
È meraviglioso scoprire che nel 2011 c'è ancora chi sogna la Hollywood degli anni '80, cantata dai Guns in "Welcome To The Jungle" e decide di distaccarsi dallo stile attuale con un ritorno al sound del passato. È ciò che hanno fatto le Hollywood Groupies che esordiscono con "Punched By Millions Hit By None", un album potente e pragmatico da ascoltare a tutto volume, che sa di leggins leopardati, capelli cotonati e giacca di pelle. Il quartetto di La Spezia, formato per metà da una componente femminile, Foxy DeVille e Kelly McCoy, e dall'altra metà maschile, Ace From Space e Condor, ci presenta un album di 9 brani veloci e indiavolati, niente ballads melense e zuccherose, qui non si scherza. L'influenza di gruppi come i Guns di "Appetite For Destruction", Motley Crue e Skid Row è molto marcata, ma denota che questi ragazzi hanno le idee chiare su che tipo di musica vogliono fare. Se siete appassionati del rock glam anni '80, questo album non vi deluderà. La voce graffiante di Foxy DeVille, delizierà i palati dei fans del glam e dell'hard rock anni '80 a partire da "Crucified Love", "Good Girls Overload", "Carcrash 666 (Raw Version)" e "Pretty Bitch", solo per citarne alcuni. L'impatto è incredibile, così come i riff di Kelly McKoy e la sezione ritmica di Ace From Space e Condor. "Punched By Millions Hit By None" è un album divertente, curato bene, con cui la band ligure dimostra di avere una forte personalità e le capacità per fare bene.
Track by Track
Babylon Hotel

80

Pretty Bitch

80

High Voltage Electric King

85

Crucified Love

80

Thru The Fire

80

Good Girls Overload

85

Destroyer Commando

85

Swallow This

80

Carcrash 666

80
Giudizio Confezione
Qualità Audio:

80

Qualità Artwork:

80

Originalità:

85

Tecnica:

85
Recensione di
Monikuez

»
pubblicata il --. Articolo letto
2717
volte.
Articoli Correlati