Silence Oath «Beneath A Bleeding Sky» (2010)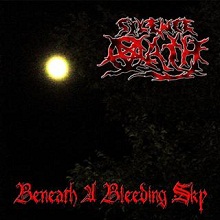 Autore:
June

»
Recensione Pubblicata il:
--
Visualizzazioni:
1132
Band:
Silence Oath





Titolo:
Beneath A Bleeding Sky
Nazione:
Italia
Formazione:
Filippo - vocals, all instruments
Genere:
Durata:
43' 17"
Formato:
CD
Data di Uscita:
2010
Etichetta:
Distribuzione:
---
Agenzia di Promozione:
---
Recensione
Apprezzo sempre chi dà sfogo agli esuberi di voglie musicali applicandosi tra le mura domestiche. Adoro le produzioni casalinghe, che denotano difetti di mix, di suono, ma che trasmettono passione; forse perché la mia coscienza metal è cresciuta negli anni in cui registrare una demo era difficile e i risultati erano per poche orecchie, per chi, come ho letto una volta, intendeva vivere la musica liberamente. Nel nostro caso, Silence Oath, one man band con intenti black dalle movenze sinfoniche. A tre anni dalla creazione del progetto possiamo ascoltare questo album (per altro disponibile al download gratuito su Jamendo...) registrato in maniera pulita sebbene amatoriale, con alcuni aiuti esterni. I nove brani qui presenti sono totalmente schiavi delle produzioni dei Dimmu Borgir della seconda metà degli anni '90; ben inteso non è l'unica derivazione di queste composizioni, ma l'impronta è davvero marcata. Quando si ascolta l'apertura pianistica di "Uninvited Presence" o i le linee di tastiera di "Beneath A Bleeding Sky" i dubbi sfumano rapidamente. Quindi nonostante le vocals variegate, che si muovono tra il black old school e il growl death, con capatine attraverso cori ampollosi e nonostante i riff di estrazione thrash/death che si trovano qui e lì, ci troviamo comunque in mano un album precisino, ma ovvio; e per un lavoro che punta sull'atmosfera mi sembra particolarmente debilitante. Con questo non intendo che l'album sia da buttare, ben intesi, ma un pizzico di coraggio in più non avrebbe guastato; dato che si sta abbondando di programmazione (la drum machine, il piano, i synth...) perché non osare, cercando delle strade che si allontanino dalle solite emulazioni orchestrali, dai banali pianoforti decadenti?
Si potrebbe obbiettare che il progetto intendeva suonare proprio così, pseudo sinfonico, melodico, epico...ok, d'accordo, ma allora non ci si può certo lamentare se i paragoni si sprecano e la musica si sminuisce.
Track by Track
The Rite (Intro)

60

Uninvited Presence

55

I Am The Legion

65

Forgotten Graves

65

Queen Of The Dark Secrets

65

The Circle

65

A Cursed Omen

60

Beneath A Bleeding Sky

60

Beyond The Shadows Of The Winter

65
Giudizio Confezione
Qualità Audio:

65

Qualità Artwork:

50

Originalità:

50

Tecnica:

65
Recensione di
June

»
pubblicata il --. Articolo letto
1132
volte.
Articoli Correlati