Tethra «At The Gates Of Doom» (2010)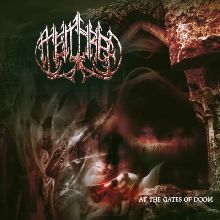 Autore:
Dust

»
Recensione Pubblicata il:
--
Visualizzazioni:
2125
Band:
Tethra




Titolo:
At The Gates Of Doom
Nazione:
Italia
Formazione:
Clode - Vocals
Belfagor - Guitars
Alex - Bass
Mike - Drums
Genere:
Durata:
24' 55"
Formato:
CD
Data di Uscita:
2010
Etichetta:
Distribuzione:
---
Agenzia di Promozione:
---
Recensione
Il progetto Tethra nasce nel 2008 per iniziativa di Belfagor, fondatore della death metal band italiana Horrid. Ben presto si unisce al gruppo Clode (voce, ex Gory Blister, Summoner e Apeiron ed attuale cantante dei Coram Lethe). Nel Maggio del 2009, infine, la formazione viene completata con Alex (ex Malus Vivendi) al basso e Mike (Sidhe, Madhour, Vexed) alla batteria.
Il loro mini-cd "At The Gates Of Doom", in uscita da novembre 2010 sotto Occultum Promotion e distribuito in Italia da Masterpiece, è la prima release della band che, attraverso un mix di death e doom abbastanza ricercato, si presenta al pubblico veramente bene: artwork veramente ben fatta, canali mediatici estremamente curati e più in generale, un lavoro di promozione di altissimo livello, rendono questo lavoro veramente interessante e perfettamente in grado di attirare l'attenzione degli ascoltatori.
Venendo agli aspetti musicali dei Tethra e del loro "At The Gates Of Doom", già dal primo pezzo che funge da intro, si comprende il filo conduttore del disco, cioè un oscuro viaggio che porta la band a rielaborare le radici del doom-death attraverso sonorità taglienti e un riffing che alterna momenti coinvolgenti e veloci a ritmiche struggenti e pesanti; su queste ritmiche spicca una ottima prova vocale di Clode (voce della band) che, attraverso una grandissima varietà di interpretazioni, ci accompagna per l'appunto in questo viaggio. A mio avviso sono ottime le parti vocali più "pulite" dove emerge con una voce abbastanza fredda e piena, anche se con qualche piccola imperfezione di intonazione. A livello compositivo, di sicuro non viene proposto nulla di particolarmente innovativo o ricercato, come forse ci si aspettava dalle premesse, ma bisogna sempre considerare che la band è alla prima uscita ufficiale, quindi di sicuro partendo da questo, ci si può aspettare una crescita ed evoluzione stilistica che sono sicuro non tarderà ad arrivare.
Venendo ad un'analisi tecnica-esecutiva, la prova strumentale è sicuramente buona, sempre abbastanza precisa ed estremamente pulita senza però strafare o proponendo qualcosa di particolarmente superlativo, però il risultato che ne esce grazie ad un'ottima scelta di suoni, soprattutto quello che riguarda le sonorità prevalentemente squillati di basso, è sempre chiaro e nitido mantenendo la giusta dose di groove e compattezza.
In conclusione, questo primo album dei Tethra viene ampiamente promosso, con la speranza di sentire presto altro materiale un po' più innovativo e ricercato.
Track by Track
The Gates of Eternal Damnation

70

Everyone Must Die

70

At The Gates Of Doom

65

Arise From My Fate

70

My Agony

65
Giudizio Confezione
Qualità Audio:

70

Qualità Artwork:

85

Originalità:

60

Tecnica:

70
Recensione di
Dust

»
pubblicata il --. Articolo letto
2125
volte.
Articoli Correlati