Sawthis «Egod» (2010)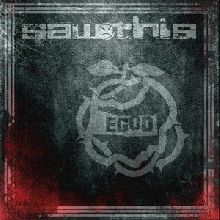 Autore:
Crash

»
Recensione Pubblicata il:
--
Visualizzazioni:
1642
Band:
Sawthis






Titolo:
Egod
Nazione:
Italia
Formazione:
Alessandro Falà - Vocals
Adriano Quaranta - Guitars
Devis Ercole - Guitars
Gaetano Ettorre - Bass
Michele Melchiorre - Drums
Genere:
Durata:
39' 12"
Formato:
CD
Data di Uscita:
2010
Etichetta:
Distribuzione:
---
Agenzia di Promozione:
---
Recensione
Si chiamavano Sothis fino a ieri e dopo aver scelto un monicker omofono tornano all'azione con Egod, seconda uscita nella carriera. Con Paolo Ojetti degli Infernal Poetry al mixer i nostri si sono lanciati in una strada moderna e fresca, con riferimenti al Death svedese di nuova concezione disseminati qua e là, con un notevole gusto anche per la compattezza groove, come testimonia il muro sonoro di 'Act of Sorrow', pezzo che si fa notare anche per gli inserimenti elettronici, a metà strada tra Gojira e Sybreed dunque. Non potevano mancare gli In Flames naturalmente, ampiamente tributati in 'A.B. Senses'ma potremmo dire in tutto il disco, nei riff ma soprattutto nel mood melodico.
Certo è che i Sawthis non ci fanno sentire nulla di particolarmente innovativo, se non nella produzione, però Egod è un lavoro pregiato e squisito, sia che si ami lo Swedeath di terza generazione sia che si sia rivlti verso sonorità più tradizionali. In ogni caso pollice in alto.
Track by Track
Mr. Zero

70

Act of Sorrow

75

Barabba

70

Him Mortality

75

A.B. Senses

65

Twonity

70

The Egod Teeth

70

I Hate You

65

Stain

75

Vanity

70
Giudizio Confezione
Qualità Audio:

90

Qualità Artwork:

80

Originalità:

75

Tecnica:

85
Recensione di
Crash

»
pubblicata il --. Articolo letto
1642
volte.
Articoli Correlati
Interviste
Live Reports
Spiacenti!

Non sono disponibili Live Reports correlati.
Concerti
Spiacenti!

Non sono disponibili concerti correlati.