Embryo «No God Slave» (2010)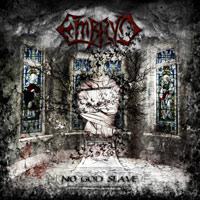 Autore:
Crash

»
Recensione Pubblicata il:
--
Visualizzazioni:
2143
Band:
Embryo






Titolo:
No God Slave
Nazione:
Italia
Formazione:
Roberto - Voce
Uge - Chitarra
Christian - Bass
Simone - Keyboards
Ivan - Drums
Genere:
Durata:
36' 11"
Formato:
CD
Data di Uscita:
2010
Etichetta:
Distribuzione:
---
Agenzia di Promozione:
---
Recensione
Davvero interessante questo progetto, direttamente dall'italico underground. Questi ragazzi cremonesi si sono avventurati in un sound moderno e singolare, registrando questo secondo full lenght che difficilmente lascerà indifferenti. Il sound degli Embryo è una contaminazione di Death moderno e black sinfonico, dove le tastiere sinfoniche a là Dimmu Borgir trovano felice accostamento con le pesanti ritmiche imbastite dall'axe-man, vere e proprie colate di cemento in un gigantesco muro sonoro che è il groove creato dai ragazzi. Pezzi come l'ottima 'Fear's Invention, Pain', coi riff alla Meshuggah sottolineati dall'oscurità delle tastiere, sono il risultato di questo felice accostamento, che ha il solo difetto di essere un tantino ripetitivo alla lunga ed eccedere in accademismo nel gusto neoclassico della solistica. Ci sono però bei momenti come la malinconica 'Behind Blind Eyes' o la bella 'Dark Passenger' che si lasciano ascoltare nonostante questodifetto di base. Insomma, davvero una bella sorpresa, che senza clamori nè miracoli si lascia apprezzare per quello che è, cioè un bel disco di Death melodico che piacerà molto agli appassionati di sonorità più moderne e introspettive.
Track by Track
No God Slave

65

Democratic Mankind Slaughter

70

No Way Left

60

Escape From Your Fears

65

The Scarecrow

75

Fear's Invention, Pain

75

Behind Blind Eyes

70

Among The Living Dead

65

Dark Passenger

70

Flatterer of Indifference

65
Giudizio Confezione
Qualità Audio:

80

Qualità Artwork:

70

Originalità:

75

Tecnica:

75
Recensione di
Crash

»
pubblicata il --. Articolo letto
2143
volte.
Articoli Correlati