Last Rites «Future World» (2009)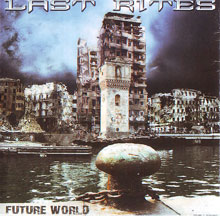 Autore:
Lord Lucyfer

»
Recensione Pubblicata il:
--
Visualizzazioni:
1628
Band:
Last Rites








Titolo:
Future World
Nazione:
Italia
Formazione:
Dave – voce e chitarra
Libu – basso
Laccio – batteria
Genere:
Durata:
24' 0"
Formato:
CD
Data di Uscita:
2009
Etichetta:
Distribuzione:
---
Agenzia di Promozione:
---
Recensione
Devo ammettere che mi ricordavo i Last Rites con tutt'altro impatto sonoro, più melodico, Swedish-oriented; i Last Rites che troviamo in questo "Future World", concept album sul futuro dell'uomo ed il suo non capire che questa smania di consumare porterà all'autodistruzione, sono invece molto più violenti e diretti, con un Thrash/Death potente e senza fronzoli.
Impresa ardua capire le influenze, dati i molteplici stili che la band ligure ha mixato: andando a naso, direi che si possono citare bands come Slayer, qualcosa dei Sodom, con una componente à la At the Gates udibile in alcuni fraseggi chitrristici. Tecnicamente il lavoro è ineccepibile: nessuna nota è fine a se stessa, ed in più la durata esigua del lavoro, 24 minuti, permette di tenere sempre alta l'attenzione, senza mai annoiare.

La lunga Intro (suonata) ci porta diretti a "Hate", primo assalto portato dalla corazzata Last Rites ai bastioni dei nostri apparati auditivi. Segue l'ancor ottima "The Hole of the White Rabbit", ma è con la tripletta finale che i Last Rites decidono di spazzare via ogni qualsivoglia dubbio. "26.04.1986" porta come titolo la tristemente nota data dell'esplosione della centrale nucleare di Chernobyl, e, dunque, il carico mortifero che quella nube tossica ha avuto nella piccola cittadina ucraina; "Human Extinction" e "The Last Rites" compongono poi una doppietta finale da urlo: specie nella seconda traccia, closer song del cd, l'act savonese porta con sé un carico di Death Metal di nuova generazione (All Shall Perish, Job for a Cowboy) che, nell'economia del disco, da un tocco in più.

"Future World" è, dunque, una piacevolissima scoperta in questo 2009 pieno di ottime uscite. Nell'underground italiano, questa nuova fatica dei Last Rites si mostra semplicemente per quel che è: una piccola gemma di rara violenza. E se pensiamo che per averlo basta semplicemente andare sul sito della band e scaricarlo gratuitamente.. beh direi che supportare una così valida realtà diventa ancor più semplice.
Track by Track
Intro

60

Hate

70

The Hole of the White Rabbit

70

26.04.86

75

Human Extinction

75

The Last Rites

75
Giudizio Confezione
Qualità Audio:

70

Qualità Artwork:

75

Originalità:

70

Tecnica:

75
Recensione di
Lord Lucyfer

»
pubblicata il --. Articolo letto
1628
volte.
Articoli Correlati