Hellsteps «Hellsteps» (2008)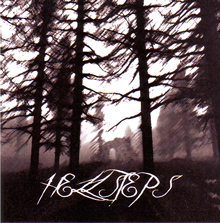 Autore:
June

»
Recensione Pubblicata il:
--
Visualizzazioni:
1475
Band:
Hellsteps



Titolo:
Hellsteps
Nazione:
Italia
Formazione:
Dienece :: Vocals
Astaroth :: Lead guitar and Rhythm Gitar
Lord of War :: Guitar, Backing Vocals
Lord Arhald :: Drums
Beliar :: Bass
Genere:
Durata:
27' 7"
Formato:
CD
Data di Uscita:
2008
Etichetta:
Distribuzione:
---
Agenzia di Promozione:
---
Recensione
Ascoltando gli Hellsteps ci troviamo a rievocare quelle sensazioni che si provava non più di una decina di anni fa, quando produrre anche solo una semplice demo tape era un impresa che richiedeva grande passione e costanza. A quei tempi avere una demo black metal tra le mani comunicava mistero, forse anche per altri motivi, ma la cassetta aveva un aria più amatoriale e quindi più "vera" di un CD! Ma basta con le nostalgie, ho esordito con questa affermazione perché le composizioni di questa produzione (che poi è su CD) hanno un'aria retro', sia nei suoni, comunque adatti al black metal proposto, in particolare delle chitarre ruvide non troppo incisive (credo volutamente), sia nella struttura: metal cupo spesso cadenzato, stridente al punto giusto, ma che non disdegna anche sporadiche accelerazione dal sapore thrash. Quasi mezz'ora di musica controllata che ha nelle atmosfere suggerite dalle chitarre il punto più interessante, come ad esempio nella traccia "Daimonesias (The Punsihment Of Gods)", con un cupo rallentamento finale e nella conclusiva gradita cover dei Torment (Elizabeth Bathory). Le altre tracce si muovono sempre su livelli abbastanza gradevoli, chiamando in causa prevalentemente la scena norvegese anni '90, su tutti i Darkthrone e i primi Ancient per le saltuarie aperture melodiche. Ho detto tutto e mi è sembrato di essere stato molto banale, ma ho provato a pensarci a lungo, non era possibile per me stroncare questa uscita in maniera totale, perché le tracce sono piacevoli e ben eseguite; non posso esimermi dal confessare che probabilmente non l'ascolterò molte altre volte; è una proposta molto canonica, stereotipata. Certo alcuni generi dopo anni smettono di mutare e per un album di questo tipo già non essere dei patetici copioni è un ottimo risalutato, ma non mi basta per giustificare un voto molto più alto della sufficienza; risultato comunque pienamente meritato. Un eventuale prossimo riscontro potrebbe essere più fruttuoso.
Track by Track
Beginning Of Dark Age

60

Through The Ways Of Labyrinth

65

Adrenaline

65

Daimonesias (The Punsihment Of Gods)

70

Bad Blood

65

Against Empire

65

Elisabeth Bathory (Tormentor Cover)

65
Giudizio Confezione
Qualità Audio:

65

Qualità Artwork:

60

Originalità:

55

Tecnica:

65
Recensione di
June

»
pubblicata il --. Articolo letto
1475
volte.
Articoli Correlati