Andromeda «The Immunity Zone» (2009)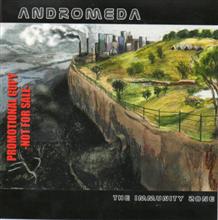 Autore:
carnival creation

»
Recensione Pubblicata il:
--
Visualizzazioni:
1794
Band:
Andromeda




Titolo:
The Immunity Zone
Nazione:
Svezia
Formazione:
David Fremberg :: Vocals
Johan Reinholdz :: Guitars
Fabian Gustavsson :: Bass
Martin Hedin :: Keyboards
Thomas Lejon :: Drums
Genere:
Durata:
1h 4' 34"
Formato:
Promo CD
Data di Uscita:
2009
Etichetta:
Distribuzione:
---
Agenzia di Promozione:
---
Recensione
Appena ho letto Andromeda ho pensato immediatamente ad un capolavoro del Progressive Metal, e avrei potuto scrivere la recensione solo basandomi sugli altri album da loro pubblicati – primo tra tutti "II=I (Two Is One)" e "Chimera" datati rispettivamente 2003 e 2006- ma non sarebbe stato deontologicamente professionale e quindi, non senza provare piacere, mi sono apprestato all'ascolto più profondo dell'opera (perché di Opera, con la O maiuscola, si tratta!).
Tutto parte da "Recognizing Fate" e già l'ombra dei Dream Theater ogni tanto si fa sentire, ma è un fattore inevitabile dato che gli stessi sono la band Progressive Metal più varia e forte del pianeta.
I nostri di certo non "suonano male da dio" come direbbe Faso e si fanno strada nel full-lenght proponendo melodie che a poco a poco si distaccano dal concetto di Prog usuale che siamo abituati ad ascoltare anche grazie a band come Symphony X e alzano la bandiera della sperimentazione più assidua (pur mantenendo una dignitosa tecnica da ogni punto di vista esecutivo per ogni strumento, in particolare chitarra, batteria e tastiere).

Scegliendo saltuariamente l'aggressività come tratto ritmico, gli Andromeda continuano a spaziare tra melodia, tecnica, passione e una buona dose di "incazzosità" che mette in risalto, com'è logico che sia, tutte le doti del grande batterista Thomas Lejon.
Si arriva inevitabilmente alla sublime suite "Veil Of Illumination", la traccia più lunga dell'album con i suoi signorili 17 minuti.
La lunga canzone scorre, nonostante tutto, in fretta ed è appunto lì che ogni dote musicale dei componenti della band si fa sentire maggiormente; un incontro tra tecnica e schizzi melodici che risaltano anche se, ahimè, vengono quasi messi in secondo piano con le sfuriate di chitarra e synth, come se pretendessero di prendersi il loro spazio. Ma l'impatto che genera è ovviamente ottimo e la splendida voce di David Fremberg non passa mai inosservata.
Grande disco, ragazzi!
Track by Track
Recognizing Fate

75

Slaves Of The Plethora Season

75

Ghosts On Retinas

75

Censoring Truth

80

Worst Enemy

85

My Star

80

Another Step

90

Shadow Of A Lucent Moon

90

Veils Of Illumination

100
Giudizio Confezione
Qualità Audio:

85

Qualità Artwork:

60

Originalità:

90

Tecnica:

90
Recensione di
carnival creation

»
pubblicata il --. Articolo letto
1794
volte.
Articoli Correlati