GAMAMETAL FEST: annunciata la line-up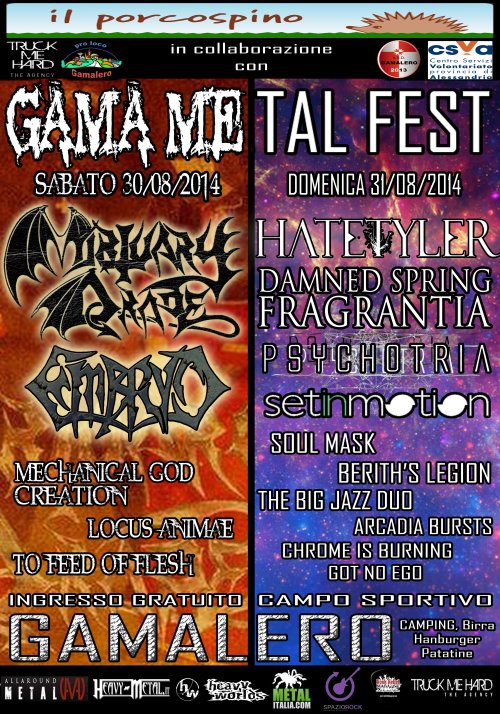 Truck Me Hard agency in collaborazione con Federico Maraucci è orgogliosa di presentare l'edizione 2014 del GamaMetal Festival!
30/31 AGOSTO @ Campo Sportivo - Gamalero ( AL )
Headliner 30 AGOSTO:
il black occult metal dei Mortuary Drape, il ritorno in zona dopo oltre 10 anni!
Mortuary Drape
EMBRYO
Mechanical God Creation
Locus Animæ
To Feed of Flesh
Co-headliner 31 AGOSTO:
HateTyler, che chiuderanno qui il tour di supporto a VIDIA, ultimo album, con uno show speciale
Damned Spring Fragrantia, una delle band più amate in Italia e non solo, a promuovere un grande album come DIVERGENCES, in attesa del nuovo materiale , previsto per il 2015
HateTyler
Damned Spring Fragrantia
PSYCHOTRIA
Set In Motion
Soul Mask
Berith's Legion
The Big Jazz Duo
Arcadia Bursts
Chrome Is Burning
Got No Ego
- INGRESSO GRATUITO -
- POSSIBILITA' DI CAMPEGGIO GRATUITO nella location la sera del 30 agosto.
- PANINI (salamella, hamburger, hot dog, anche vegetariani), BIRRA e bevande varie disponibili all'interno della location.
- PER ARRIVARE -
Uscite ad Alessandria Sud e proseguite verso Acqui Terme, Gamalero è un paio di paesi più avanti. Il campo sportivo si trova subito dopo il paese
Per info:
http://www.facebook.com/events/572597356182762/
http://www.facebook.com/pages/GamaMetal-Festival/1483520595218542
http://www.facebook.com/truckmehard
http://www.truckmehard.com
Inserita da:
Jerico
il 25.07.2014 - Letture:
2295
Articoli Correlati
Altre News di MetalWave