SUMMER CORE FEST 2014: in arrivo la due giorni con 18 bands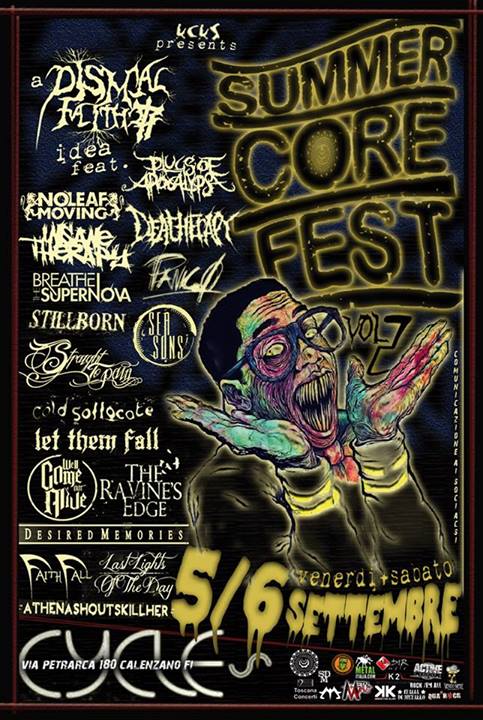 Il Summer CORE fest nasce nel 2013 dalla volontá dei Dismal Faith di unire alcune tra le migliori realtá core italiane sullo stesso palco e sudarci insieme nello stesso pogo. Nuova location rispetto allo scorso anno e ora, come opportuno, sperato, cercato, finalmente nel TEMPIO DEL CORE DELLA TOSCANA: il Cycle Club!
KCKS Management&Promotion ha ottimizzato le scelte fatte dalla band fiorentina, e con un giorno in meno a disposizione rispetto alla scorsa edizione, esattamente un terzo in meno saranno le band ad esibirsi.
18 in tutto le band da molti angoli d'Italia, elencate qui di seguito in ORDINE CASUALE all'interno di 2 serate di adrenalina pura!
<venerdì 5 settembre>
Sea/Sons - Firenze - Metalcore
Breathe The Supernova - Verona - Metalcore
We'll Come Out Alive - Firenze - Metalcore
Last Lights Of The Day - Valdarno - Metalcore
The Ravine's Edge - Montecatini - Post HC
Let Them Fall - Grosseto - Melodic HC
Desired Memories - Firenze - Post HC
Athena Shouts Kill Her - Lucca - Metalcore
Stillborn - Grosseto - Alt. Metalcore
<sabato 6 settembre>
Plugs of Apocalypse - Roma - Deathcore
Insane Therapy - Pescara - Deathcore
DEATHERAPY - Trieste - Deathcore
Dismal Faith - Firenze - Core Metal
STRAIGHT TO PAIN - Savona - Core Metal
No Leaf Moving - Bitonto - Groove Metalcore
FaithFall - Pistoia - Groove Metalcore
Panic.0 - Lucca - CrossCore
CoLd SoffoCate - Lucca - ClownCore
In entrambe le serate saranno presenti inoltre:
-Simone Serafini Videomaker, che documenterà la serata col suo occhio in un video unico, e lancerà in rotazione i suoi ultimi lavori su monitor nell'area merch;
-Chiara Traversari, fotografa ufficiale del SCF014, presente già in decine di eventi dell'underground toscano;
EVENTO APERTO A DISTRO E A TUTTE LE BAND CHE VOLESSERO PORTARE IL PROPRIO MERCH
PREVIA COMUNICAZIONE A kockasmanagement@gmail.com
(per non improvvisare gli spazi)
L'evento è promosso e supportato da:
KCKS management&promotion
Active Underground
Kreative Klan
Qua'Rock
K2 MUSIC MANAGEMENT
Nadir Music
Nadirmusic H'n'h Nadirmusic H'n'h
Moveorama
Mondo Metal
Metalitalia.com
Suoni Distorti Magazine
Toscana Concerti
Metallus.it - dove il metal clicca
Italia Di Metallo-Webzine
METALWAVE
METALWAVE ON-AIR
ROCK /EM ALL
Inserita da:
Jerico
il 25.07.2014 - Letture:
2062
Articoli Correlati
Interviste
Spiacenti!

Non sono disponibili Interviste correlate.
Live Reports
Spiacenti!

Non sono disponibili Live Reports correlati.
Concerti
Spiacenti!

Non sono disponibili concerti correlati.
Altre News di MetalWave
Notizia Precedente
Notizia Successiva