THRASH THE SUNDAY FEST: i dettagli dell'evento di Parma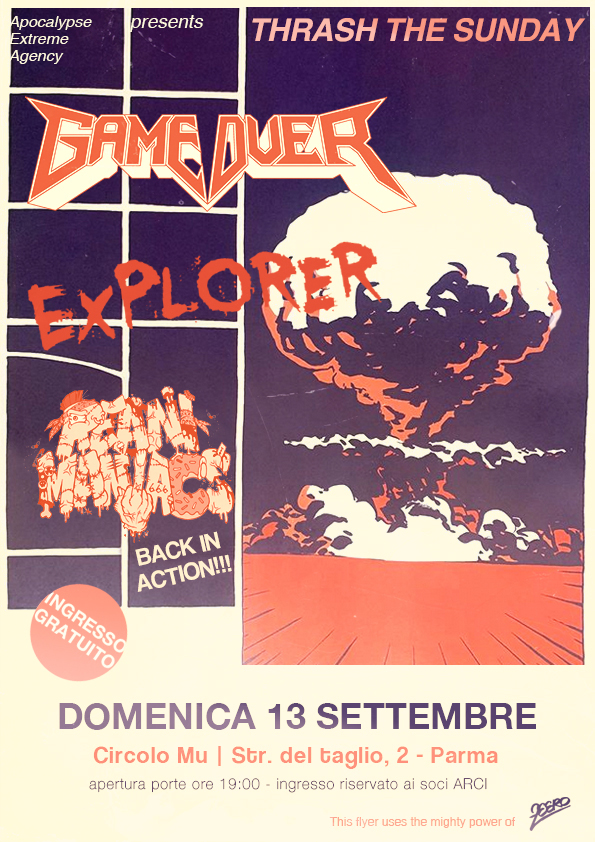 Manca Pochissimo al THRASH THE SUNDAY FEST, previsto per domenica 13 settembre presso il Circolo Mu di Parma, ad ingresso gratuito.
GAME OVER, EXPLORER e REANIMANIACS, saranno i protagonisti di questa giornata all'insegna del thrash metal.
Di seguito i dettagli della giornata:
19:00- Apertura porte
20:15- ReaniManiacs
21:10- Explorer
22:10- Game Over
La Location è provvista di ampio parcheggio gratuito, inoltre potrete gustare ottimo cibo con cucina selezionata, vastissima scelta di birre, cocktails e altro ancora.
DOMENICA 13 SETTEMBRE 2020
THRASH THE SUNDAY FEST
con:
-GAME OVER
-EXPLORER
-REANIMANIACS (special show!)
Presso:
Circolo Arci Mu
Strada del Taglio 2
Parma (PR)
Apertura cancelli ore 19:00
Inizio concerti ore 20:15
Fine concerti ore 23:00
Evento Facebook: clicca QUI
INGRESSO GRATUITO
Riservato ai soci Arci
L'evento si svolgerà nel rispetto delle normative vigenti per il contenimento dell'emergenza Covid-19, per cui l'ingresso al locale sarà limitato al numero di posti a sedere disponibili in platea.
PRENOTAZIONE ALTAMENTE CONSIGLIATA: prenota il tuo posto attraverso la pagina facebook ufficiale del Circolo MU, cliccando QUI:
https://www.facebook.com/mu.parma/
Info:
http://www.apocalypseextremeagency.com
http://www.facebook.com/mu.parma
Inserita da:
Jerico
il 07.09.2020 - Letture:
398
Articoli Correlati
Interviste
Spiacenti!

Non sono disponibili Interviste correlate.
Concerti
06 Ago. 2022

METAL VALLEY 2022: Voivod + Forgotten Tomb + Eldritch + Game Over + Blue Dawn + Expiatoria @ "Parco Storico Villa Serra", Comago (GE)
Altre News di MetalWave
Notizia Precedente
Notizia Successiva