CULT OF PARTHENOPE BLACK METAL FEST: sabato a Caserta la quarta edizione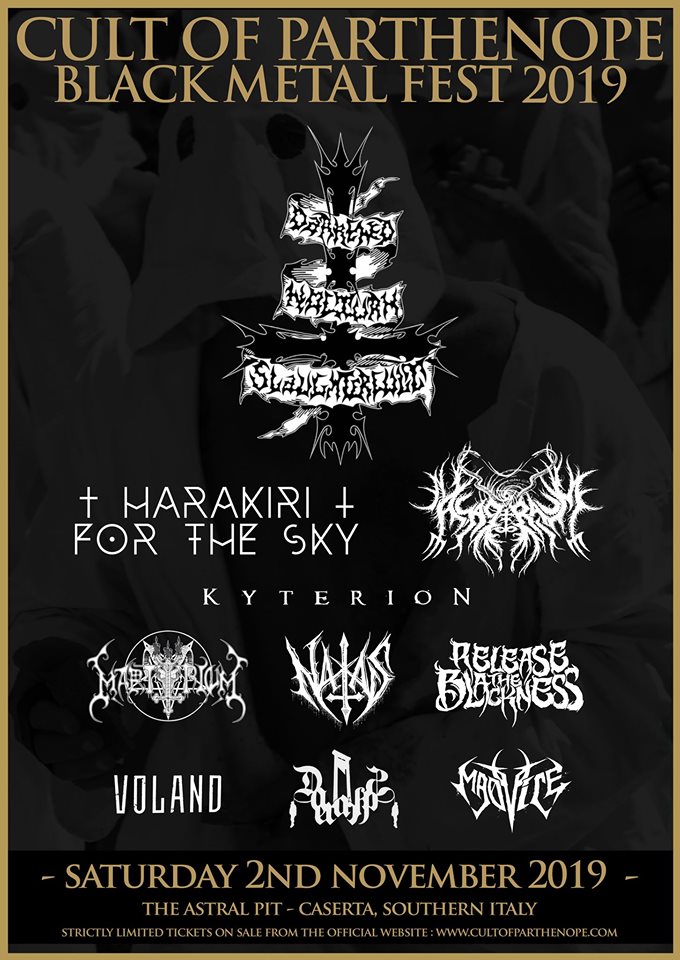 Per il quarto anno consecutivo il Cult Of Parthenope Black Metal Fest tingerà di nero i cieli della Campania: sabato 2 novembre si avvicenderanno sul palco band del The Astral Pit di Caserta band del calibro di DARKENED NOCTURN SLAUGHTERCULT, HARAKIRI FOR THE SKY, ASAGRAUM e molti altri (potete trovare di seguito gli orari).
Stage Times:
Doors - 16:00
Madvice - 16:10/16:40
Daerachas - 17:00/17:30
Voland - 17:50/18:20
Release The Blackness - 18:40/19:10
Natas - 19:30/20:00
Martyrium - 20:20/20:50
Kyterion - 21:10/21:40
Asagraum - 22:00/22:40
Harakiri For The Sky - 23:00/23:40
Darkened Nocturn Slaughtercult - 00:00/01:15
I biglietti possono essere acquistati alla porta la sera del concerto o su buytickets.at/cultofparthenope in diversi formati:
- CULT PACKAGE (disponibilità limitata) comprende 1 Standard Ticket, una T-shirt del festival, un poster firmato, accesso esclusivo ai meet&greet e 1 drink;
- STANDARD TICKET (limited availability) prevede il biglietto di ingresso
Evento Ufficiale Facebook :
https://www.facebook.com/events/2261993040723959/
Follow the Cult...
Inserita da:
Jerico
il 01.11.2019 - Letture:
578
Articoli Correlati
Interviste
Spiacenti!

Non sono disponibili Interviste correlate.
Live Reports
Spiacenti!

Non sono disponibili Live Reports correlati.
Altre News di MetalWave
Notizia Precedente
Notizia Successiva