GAME OVER: last minute show a Verona con VEXOVOID e DEFIANT CULT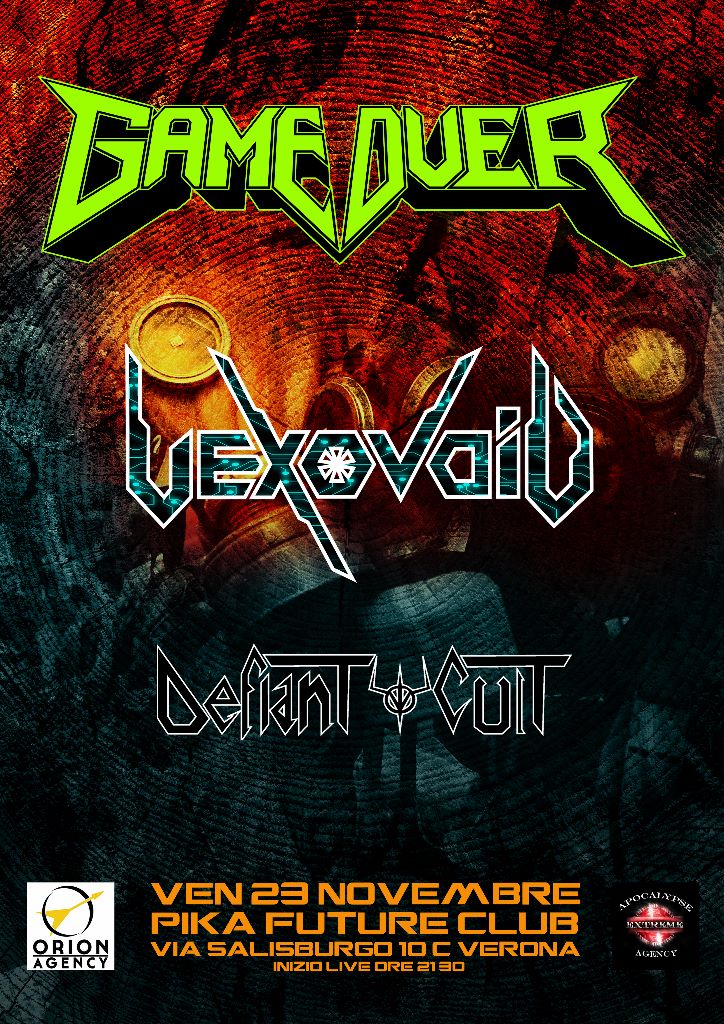 I thrashers ferraresi GAME OVER assieme agli sci-fi thrashers toscani VEXOVOID, saranno i protagonisti di un "Last Minute Show" che si terrà venerdi 23 novembre presso il Pika Future Club di Verona. Il compito di aprire la serata è stato affidato ai DEFIANT CULT, giovane thrash band del veronese.
I GAME OVER, attivi dal 2008 con 4 albums in studio, tornano a Verona dopo la loro ultima apparizione al festival "Rock The Castle", dove hanno condiviso il palco assieme a band del calibro di UNLEASHED , AT THE GATES e CARCASS.
VENERDI 23 NOVEMBRE
GAME OVER
VEXOVOID
DEFIANT CULT
Presso:
Pika Future Club
Via Salisburgo 10/C
VERONA
Apertura porte ore 21:00
Inizio concerti ore 21:30
INGRESSO 7 EURO
NESSUNA TESSERA RICHIESTA
Evento Facebook
https://www.facebook.com/events/296394371204083/
Info:
ORION AGENCY
http://www.facebook.com/OrionMusicAgency2018/
APOCALYPSE EXTREME AGENCY
http://www.apocalypseextremeagency.com
Inserita da:
Jerico
il 20.11.2018 - Letture:
944
Articoli Correlati
Altre News di MetalWave
Notizia Precedente
Notizia Successiva