ERA OF DISGUST: live al WE ARE DEATHCORE FEST e dettagli del festival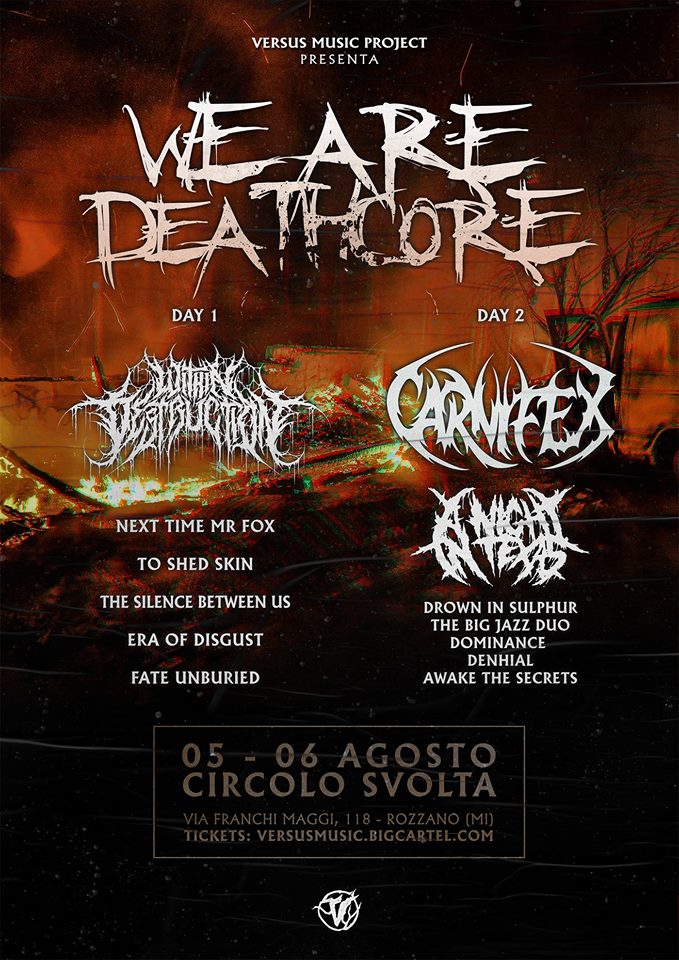 I torinesi Era Of Disgust suoneranno il 5 agosto 2018 al WE ARE DEATHCORE FEST a Rozzano (MI). L'evento, che negli ultimi anni ha ospitato band come Aversions Crown, Fit For An Autopsy, e Declare War, quest'anno si estende a due giornate ad agosto ed avrà come headliner i Carnifex! Di seguito la line up completa e dettagli del festival.
5th August – PREVIEW
Within Destruction (SLO - Deathcore)
+Betrayer Of Innocence (Milano – Deathcore)
+Next Time Mr. Fox (Cesena – Metalcore)
+To Shed Skin (Modena – Deathcore)
+The Silence Between Us (Venezia – Melodic Deathcore)
+Era Of Disgust (Deathcore – Torino)
+Fate Unburied (Progressive Death Metal – Vicenza)
6th August – WE ARE DEATHCORE
Carnifex (USA – Nuclear Blast)
+A Night In Texas (AUS)
+Drown In Sulphur (Milano – Deathcore)
+The Big Jazz Duo (Alessandria – Experimental Deathcore)
+Dominance (Reggio Emilia – Death Metal)
+Denhial (Metalcore – Brescia)
+Awake The Secrets (Deathcore – Udine)
5/6 Agosto 2018
MILANO – CIRCOLO SVOLTA
Via Franchi Maggi, 118 – Rozzano (MI)
Evento Facebook:https://www.facebook.com/events/222465978529854/Prevendite:https://versusmusic.bigcartel.com/
Ingresso 5 Agosto: 12€
Ingresso 6 Agosto: 25€
Ingresso 2 giorni: 35€
INGRESSO RISERVATO AI SOCI ACSI (Tesseramento: 5€).
Inserita da:
Jerico
il 01.08.2018 - Letture:
1086
Articoli Correlati
Live Reports
Spiacenti!

Non sono disponibili Live Reports correlati.
Altre News di MetalWave
Notizia Precedente
Notizia Successiva