Handful of Hate «Gruesome splendour» (2006)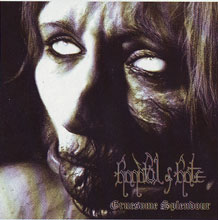 Autore:
FallenAngel

»
Recensione Pubblicata il:
--
Visualizzazioni:
2346
Band:
Handful of Hate





Titolo:
Gruesome splendour
Nazione:
Italia
Formazione:
Nicola B. :: chitarra e voce
Matteo F. :: basso
Gionata P. :: batteria
Geny A. :: chitarra
Genere:
Durata:
35' 52"
Formato:
Data di Uscita:
2006
Etichetta:
Distribuzione:
---
Agenzia di Promozione:
---
Recensione
A 14 anni dalla loro nasciata gli Handful of Hate non hanno più bisogno di presentazioni e con questo "Gruesome splendour" giungono al loro quarto full-lenght.
Con il passare degli anni la band non ha sostanzialmente cambiato la loro mentalità di intendere la musica ma è semplicemente cresciuta aggiustando i difetti presenti nel loro sound.
Brani come "Live" e "Theory of perfection" si presentano potenti e corposi ai nostri padiglioni auricolari senza difetti di sorta, un macigno che pende sulle nostre povere teste; parti iper-veloci in tipico stile Marduk si alternano a momenti strazianti e lenti che rasentano il doom per la cadenza dei riff.
Con "Used to discipline" gli Handful of Hate ci dimostrano che il black metal non è solo velocità o potenza ma anche tecnica, grazie a numerosi cambi di tempo che rendono il brano maggiormente incisivo e particolare.
Discorso decisamente diverso va fatto per "Grotesque in pleasure, rotten in vice" in cui lo scream di Nicola B. pressoché impeccabile e mai esasperato si accosta ad un sound di chitarra che ricorda molto quello dei Candlemass di "Tales of creation", con il risultato di riuscire a creare un ambiente cupo e claustrofobico che non lascia nessuno scampo all'ascoltatore.
Di contro "Reproach and blame" e "Spawn of decdence" sono brani all'insegna della violenza dura e cruda senza mezze misure, canzoni che farebbero agitare anche il metallaro più mansueto; cavalcate di doppia cassa affiancano riff potenti e stridenti al tempo stesso accompagnati da urla strazianti e sempre adeguate.
Questo "Gruesome splendour" è quindi l'ennesima conferma che gli Handful of Hate non hanno ancora finito di dire la loro e hanno sempre qualcosa di nuovo e più potente da farci ascoltare. Il platter non presenta evidenti difetti e si fa ascoltare senza intoppi dall'inizio alla fine. Di certo non è l'originalità la carta vincente della band, ma, in questo caso lo vedo più come pregio che come difetto.
Track by Track
Lived

80

Theory of perfection

77

Used to discipline

83

Tied, whipped...educated

74

Grotesque in pleasure, rotten in vice

88

Reproach and blame

74

Spawn of decadence

77

Whiplaw

71

Ejaculation dementiae

73
Giudizio Confezione
Qualità Audio:

85

Qualità Artwork:

80

Originalità:

69

Tecnica:

84
Recensione di
FallenAngel

»
pubblicata il --. Articolo letto
2346
volte.
Articoli Correlati