Last Rites «H.A.T.E.» (2006)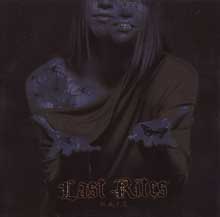 Autore:
Ernando

»
Recensione Pubblicata il:
--
Visualizzazioni:
1741
Band:
Last Rites








Titolo:
H.A.T.E.
Nazione:
Italia
Formazione:
Libu - Bass
Dave - Guitar,vocals
Laccio - Drums
Jan - Lead Guitar
Genere:
Durata:
19' 36"
Formato:
Data di Uscita:
2006
Etichetta:
Distribuzione:
---
Agenzia di Promozione:
---
Recensione
Death con palesi riferimenti al thrash per questa formazione savonese dall'indiscusso talento che trova ispirazione nei mostri sacri del panorama internazionale: Morbid Angel, Death, Carcass e Arch Enemy su tutti. Quindi parliamo di un death molto tecnico in cui le trame sonore non sono ripetitive ma sempre variegate e complesse; altra caratteristica è la melodia, presente soprattutto negli assoli. Il platter esordisce con una song degna dei migliori Death, quelli del periodo iniziato con Individual Thought Patterns, e lo fanno con chiari riferimenti e con un drumming violento e preciso tanto da seminare il dubbio che dietro alle pellii ci sia Gene Hoglan; anche le vocals sono ispirate dalla stessa band, alternate ad un growling più cupo e cavernoso. Il secondo capitolo ricalca lo stesso modo di cantare e le stesse sonorità di quello precedente; da sottolineare positivamente il break e, in particolare, l'assolo figlio della seconda ondata thrash Bay Area. Leggermente più canonica delle precedenti risulta The Devil' Son ma che, allo stesso modo, lesina potenza tecnica e ispirato songwriting. La traccia successiva comincia come Harvester of Sorrow dei Metallica, ma è solo una citazione momentanea prima che la canzone si scateni in una cavalcata alla Carcass periodo Hatework, sgravando sull'ascoltatore una caterva di riff e assoli dal valore assoluto. Il lavoro si chiude con una canzone, la più violenta del lotto, dal titolo esplicativo, Grind, ibridata col Brutal Death ma che fa trasparire, ad ogni modo, la personalità di questi Last Rites che hanno la sola pecca di aver prodotto un mini anziché un full-lenght.
Track by Track
Equilibrium

83

Screams of Death

84

The Devil's Son

80

Evil Inside

81

Grind

74
Giudizio Confezione
Qualità Audio:

84

Qualità Artwork:

86

Originalità:

63

Tecnica:

85
Recensione di
Ernando

»
pubblicata il --. Articolo letto
1741
volte.
Articoli Correlati