Pulvis Et Umbra «Reaching The End» (2012)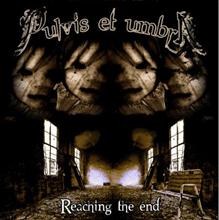 Autore:
carnival creation

»
Recensione Pubblicata il:
--
Visualizzazioni:
2579
Band:
Pulvis Et Umbra








Titolo:
Reaching The End
Nazione:
Italia
Formazione:
Stefano :: Vocals
Damy :: Guitars, Clean Vocale On Track 4
Vincenzo :: Bass
Marcello :: Drums
Genere:
Durata:
34' 26"
Formato:
CD
Data di Uscita:
2012
Etichetta:
Distribuzione:
---
Agenzia di Promozione:
---
Recensione
Non avevo mai sentito nominare i lombardi Pulvis Et Umbra nonostante siano attivi da più di una decade e con un curriculum piuttosto buono che conta due demo, un mini-cd, diverse esperienze live anche fuori dal bel paese e ora il tentativo di andare lontano con questo "Reaching The End", primo studio-album vero e proprio della band la quale, nel corso di questi anni, ha subito diverse trasformazioni all'interno della line-up così da dover necessariamente rivoluzionare sonorità e compagnia bella ergo troviamo un gruppo che da scelte più tendenti alla melodia trova ora sbocco in un Thrash/Death Metal dal sapore vagamente groovy.
Le idee di fondo che si trovano all'interno di "Reaching The End" non sono per niente male e, anche se riprendono spesso e volentieri da realtà ben più note, riescono a barcamenarsi facilmente tra pezzi più tendenti al Thrash e altri più Thrash-Core con scelte di ritmi e groove di chiara matrice americana.
Per quanto riguarda l'animo Death Metal, i Pulvis Et Umbra, scelgono evidentemente lo stampo più moderno fermo restando che qualche sfuriata vecchio stile viene ogni tanto riproposta seppur con qualche piccola imprecisione facilmente soprassedibile.
E ora il difetto principale: ignoro se la cosa sia voluta o meno ma la produzione audio di "Reaching The End" non solo non rende giustizia a nessun brano contenuto nel platter ma uccide costantemente le chitarre che si trovano a dover letteralmente soffocare per dei bassi troppo accentuati, sonorità eccessivamente secca, voci ma soprattutto cori piatti ("Portrait Of Myself") e soprattutto l'elemento più fastidioso: un tipo di audio diverso a seconda della traccia, cosa che, a parer mio non andrebbe mai fatta, specie nell'Heavy Metal moderno. Il discorso è che se nell'idea iniziale di un disco esiste questa possibilità andrebbe a mio avviso costruita su solide basi di mixaggio e non su qualcosa che rende sconclusionato l'intero prodotto.
Ovviamente sono pareri personali del tutto opinabili ciò non toglie che i Pulvis Et Umbra non siano una band dalle potenzialità scarse; probabilmente con una produzione audio che si possa definire tale le cose sarebbero ben diverse.
Track by Track
Lying To Yourself

55

Wrath And Sorrow

70

Kosmonaut

60

Portrait Of Myself

50

The Price Of Trust

60

Reaching The End

55

Hope In a Better Afterlife

60

Architects Of War

55
Giudizio Confezione
Qualità Audio:

45

Qualità Artwork:

60

Originalità:

60

Tecnica:

70
Recensione di
carnival creation

»
pubblicata il --. Articolo letto
2579
volte.
Articoli Correlati