Karmian «Ways Of Death» (2012)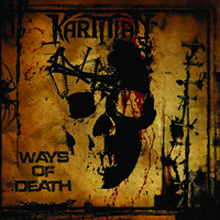 Autore:
Vincent

»
Recensione Pubblicata il:
--
Visualizzazioni:
1980
Band:
Karmian







Titolo:
Ways Of Death
Nazione:
Italia
Formazione:
Andrea - Vocals
Barra - Guitars
Mauro - Guitars
Nico - Drums
Andrea Sirignano – Bass
Genere:
Durata:
23' 12"
Formato:
EP
Data di Uscita:
2012
Etichetta:
Distribuzione:
---
Agenzia di Promozione:
---
Recensione
La band nasce del 2005 e dopo vari cambi di line up riesce a portare alla luce il primo EP della loro carriera avendo trovato dei membri stabili con cui comporre musica. Ci tengono a dire che il loro sound è "pure swedish death metal"...speriamo bene perché io sono un fan del genere in questione! Le influenze ovviamente sono quelle: At the Gates, Dissection, The Haunted, Dismember, Suffocation, Dark Tranquillity (old), etc… hanno fatto bene a precisare "old" perché in effetti il sound è ben distante, per esempio, dagli odierni In Flames mentre si rifà più ad un duro e puro death metal dei primi anni. Già dalla prima traccia mi viene da associarli molto ai Dark Tranquillity. Diciamo che tutto sommato il loro stile non si discosta tanto da quello canonico...avrei preferito sentire un italian death metal e quindi con più originalità piuttosto che uno swedish trito e ritrito. Non mancano comunque le note crude ed accattivanti, nonché i testi aggressivi con tematiche di persecuzione, depressione, pazzia e sofferenza. Il suond, rispetto alla prima traccia, non si discosta molto in "Demon Mask" e "Mankind's Greed", mentre subentra una vena maggiormente creativa e più melodica in "See No Evil". Oserei dire un piccolo sprazzo di variazione, molto apprezzabile! Forse mi concentrerei in questa direzione per i lavori futuri. L'ultima traccia rimane in linea con le prime. Ovviamente, come ogni volta, si poteva fare di meglio, ma è comunque un EP che mette in luce le doti della band e la loro buona preparazione. Personalmente avrei cercato, oltre ad apportare qualche nota di originalità in più, un suono maggiormente diversificato delle chitarre che a mio avviso restano monotone e danno una nota di "già sentito" nelle tracce che compongono l'EP, in particolare in "Our Persecution", troppo uguale alle altre. C'è da dire che è il loro primo lavoro e nonostante tutto si sono impegnati molto anche nella realizzazione del booklet, per cui direi che possono essere contenti del risultato ottenuto fermo restando che rimane comunque l'EP d'esordio: deve essere quindi inteso come un trampolino di lancio verso un mondo più vasto cercando di offrire nei prossimi lavori qualcosa di più all'ascoltatore. Spero abbiate trovato membri stabili ora, dateci dentro e sfornate nuovo materiale!
Track by Track
Way of Death

75

Way of Death

65

Mankind's Greed

70

See No Evil

75

Our Persecution

65
Giudizio Confezione
Qualità Audio:

70

Qualità Artwork:

75

Originalità:

70

Tecnica:

75
Recensione di
Vincent

»
pubblicata il --. Articolo letto
1980
volte.
Articoli Correlati