Helligators «Against All Odds» (2011)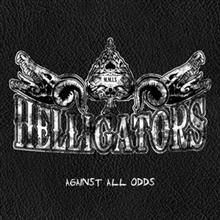 Autore:
carnival creation

»
Recensione Pubblicata il:
--
Visualizzazioni:
2995
Band:
Helligators



Titolo:
Against All Odds
Nazione:
Italia
Formazione:
Emanuele Galanti :: Vocals
Mik Chessa :: Guitar, Backing Vocals
Daniele Tomassini :: Guitar, Backing Vocals
Rob Renzi :: Bass
Marco Aurelio :: Drums
Genere:
Durata:
53' 13"
Formato:
CD
Data di Uscita:
2011
Etichetta:
Distribuzione:
---
Agenzia di Promozione:
---
Recensione
"Against All Odds" è la testimonianza come debut album dei capitolini Helligators, band nata non troppo tempo fa e fresca di stampa della loro prima esperienza discografica sotto questo moniker.
Posso dire di adorare i dischi così sebbene il livello di originalità non raggiunga chissà quale stadio (e credo che la cosa sia assolutamente voluta) poiché qui è l'onestà e la passione per il Rock 'n' Roll vecchio stampo che pagano.
Ogni brano è permeato di amore per Heavy Metal primordiale ma i nostri scelgono più che altro di misurarsi con la proposta di un Southern Metal che abbraccia principalmente elementi propri di Black Label Society richiamando anche all'appello le vecchie glorie sabbathiane, che male non fa.
Dopo un gustoso intro acustico blueseggiante i 53 minuti di durata di "Against.." iniziano alla grande e il tono di voce graffiante e ruggente del singer fa la sua porca figura praticamente sempre conferendo ai brani un'atmosfera più vissuta, più grezza mentre Chessa, Tomassini e Renzi macinano groove e riff di tutto rispetto all'interno dei pezzi che appaiono carichi in ogni dove, aiutati anche dal buon lavoro di Marco Aurelio dietro le pelli.
Nonostante i rallentamenti più doomy ("Cruel" ma anche "Kill the Monster") il ritmo dell'ascolto non si perde per strada e, anche se appare qualche troppa ingenua e innocua ripetizione qua e là, i brani si lasciano ascoltare senza alcun intoppo presentandosi così come sono, semplici, senza inutili fronzoli.
La musica degli Helligators è tipicamente quel tipo di Heavy Metal da palco, quella musica da vivere in un locale sorseggiando una birra e battendo il ritmo coi piedi. Poco non è quindi non posso far altro che consigliare questo album e invitare gli appassionati ad andare a sentire i nostri a qualche data.
Track by Track
Goddam

75

Southern Cross

70

Tattoed Killer

75

Cruel

75

Kill The Monster

75

Burn

70

Against All Odds

70

Gimme a Break

70

Bloody Blue & 10 Elsewhere

75
Giudizio Confezione
Qualità Audio:

75

Qualità Artwork:

50

Originalità:

65

Tecnica:

75
Recensione di
carnival creation

»
pubblicata il --. Articolo letto
2995
volte.
Articoli Correlati